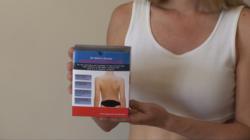 Live your life pain-free with the natural and effective Dr. Allen's therapeutic devices now available internationally.
London, UK (PRWEB) December 21, 2012
The natural therapy for the spine and sciatica recommended by Fine Treatment ensures the users get healthier in the New Year, helping them to avoid possible complications following other common treatment options. For instance, the article by Ed Pilkington, chief reporter for The Guardian US, on 'Painkiller addiction: the plague that is sweeping the US' of November 28, 2012, says: "The US is leading the way in eradicating pain, but in doing so has created an unwanted byproduct: painkiller addiction. Prescription pill overdoses are killing 15,000 Americans a year, and the toll is growing".
Supported by the National Institutes of Health (NIH), research produced by S. Linton from the Orebro Medical Center Hospital, Sweden, states: "Chronic back pain is a major consumer of costly healthcare resources in the Western world. Patients' suffering affects their families and associates, leads to diminished self-confidence, and prevents their effective participation in the workplace. Although medical treatments and analgesics are generally successful in treating acute back pain, and some patients recover spontaneously, conventional approaches are less successful in dealing with chronic pain and may be contraindicated."
So what can be done to protect people from the painkiller addiction and ease the pain naturally? Different types of massage, like hot stone massage, costs about $65 or more for an hour; and aromatherapy oils can be used at an additional cost, shows the article titled 'Have you tried ... Hot stones intensify good feeling of massage' by C. Lane, December 14, 2012. However, massage works mainly as an enjoyable relaxation for Christmas and New Year holidays, but not as an ultimate treatment.
Acupuncture widely used for back pain relief costs in private practices about $150 for a single treatment, including a first time evaluation, and for the following sessions $60-$75; a community acupuncturist may charge less, about $35 per session, and the number of sessions comes up to 10 and more, according to The New York Times, 'The Cost of Acupuncture', By Tara Parker-Pope. Regrettably, chronic back pain relief doesn't stay for long.
"Lower back pain treatment and relief without surgery can be a reality with the Thermobalancing therapy", says Dr. Saint-Phard from Lincoln Medical and Mental Health Center, New York. "Forget the surgery that will leave your bank account empty, or the painkillers that you will have to absorb for the rest of your life. This product will change your life."
Dr. Allen's Devices can be used to treat both upper and lower spine. At under $150, they provide an effective and superb value for money treatment.
"The Thermobalancing therapy will make you healthier over Christmas and in the New Year", says Dr. Simon Allen. "Live your life pain-free with the natural and effective Dr. Allen's therapeutic devices now available internationally."
For more information, please visit the Fine Treatment website: http://finetreatment.com/lower-back-pain-treatment-lumbago-relief/.
About Dr. Simon Allen and Fine Treatment:
Dr. Simon Allen is a highly experienced medical professional. His specialty is in the internal medicine and cardio-vascular field. He has treated a wide range of chronic diseases, including patients after a heart attack, with kidneys problems, including kidney stones disease, prostate and spine conditions. Fine Treatment exclusively offers Dr. Allen's devices for http prostate treatment: chronic prostatitis and BPH, coronary heart disease, dissolving kidney stones, as well as for back pain and sciatica relief.