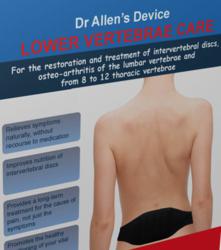 Pain in lumbar region will ease after a few days of wearing our device, although some occurrences may take longer to subside or resolve.
London, UK (PRWEB) January 10, 2012
Fine Treatment offers natural non-invasive therapy of degenerative disc disease (DDD) which is a relatively common condition for aging adults. No other of current conservative treatments can provide the same help. For Instance, Lumbago Treatment Exercises do not treat the intervertebral discs and their effectiveness lies in strengthening muscles around the spine. Exercises are an important part of the lumbago treatment but they require supervision of physiotherapist as there is a risk of a sharp worsening in condition due to of a sudden nervous compression. Secondly, there is a rather large number of medications on the market for the treatment of lower back pain and all of them have side effects, such as drowsiness, mental clouding with impairment of mental and physical performance, etc.
Contrary to conservative treatments, with the help of Dr. Allen's therapeutic device people can obtain pain relief without unwanted physiological and psychological effects. To understand how it works let's take a look on what causes pain. The intervertebral disk loses the capacity to take up sufficient water to maintain its elasticity and consequently loses elasticity due to the metabolic imbalances. This pathologic process leads to to a spinal disc herniation. According to National Institute of Health (NIH) 'When one of your disks hernitates (moves out of place), the soft gel inside pushes through the wall of the disk. The disk may then place pressure on the spinal cord and nerves that are coming out of your spinal column.'
"Lower back pain relief is a crucial matter for elderly as having back pain every single day makes their life miserable," says Dr Allen. "Pain in lumbar region will ease after a few days of wearing our device, although some occurrences may take longer to subside or resolve."
The Thermobalancing Therapy tackles the cause of lumbago by increasing the blood flow in the lower spine. Therefore the intervertebral discs can pick up sufficient water and it consequently enhances the metabolic balance. Thus, the condition of intervertebral disc improves and pain goes away. Read more at http://www.finetreatment.co.uk/natural-alternative/vertebrae-treatment.html.
About Fine Treatment:
Fine Treatment, also, produces and distributes therapeutic devices to dissolve kidney stones and for prostate treatment, particularly for BPH treatment and chronic pelvic pain syndrome, for the coronary heart disease and recovery after a heart attack.
About Dr. Simon Allen:
Dr. Simon Allen is a highly experienced medical professional who qualified as a medical doctor 40 years ago. He obtained a PhD in Medicine in 1978. His specialty is in the cardio-vascular field and he treated patients with coronary heart disease, joints, kidneys and prostate conditions and later subsequently headed a hospital.
###