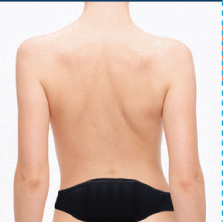 Dr. Allen's therapeutic devices provide the only effective natural treatment for lower back pain and sciatica without resorting to drugs and antibiotics.
London, UK (PRWEB) May 16, 2013
"Low Back Pain Linked to Bacterial Infection" article of May 08, 2013 in Medscape Today suggests that some 40% of chronic lower back pain (CLBP) could be caused by bacteria, and that a significant percentage of people with lower back pain following a herniated disc and swelling in the spine could find relief by taking an antibiotic. However, antibiotics can develop serious side effects. Dr. Allen's Devices are able to successfully treat sciatica and other painful conditions in the spine naturally, Fine Treatment reveals.
Investigators from the Research Department of the Spine Center of Southern Denmark, University of Southern Denmark, Odense, led by Hanne B. Albert, PhD, conclude that antibiotics may be considered as a treatment option for patients with chronic low back pain, but with caution. Indeed, people must be very careful with antibiotics. E-MedExpert warns: "continued use of antibiotics, especially broad-spectrum antibiotics, can seriously disrupt the normal ecology of the body and render anyone more susceptible to pathogenic (disease causing) bacteria, yeast, viral and parasitic infection."
According to the study, supported by the National Institutes of Health (NIH), published by S. Linton from the Department of Occupational and Environmental Medicine of the Orebro Medical Center Hospital, Sweden, "Chronic back pain is a major consumer of costly healthcare resources in the Western world. Patients' suffering effects their families and associates, leads to diminished self-confidence, and prevents their effective participation in the workplace. Although medical treatments and analgesics are generally successful in treating acute back pain, and some patients recover spontaneously, conventional approaches are less successful in dealing with chronic pain and may be contraindicated."
Addressing the need for an effective, yet harmless, back pain treatment, Dr. Allen has developed a natural method of dealing with chronic back conditions at the capillary level. When worn over the painful back area, Dr. Allen's Device enables the Thermobalancing therapy that not only eases the pain but also works on its underlying cause over time.
"Lower back pain treatment and relief without surgery can be a reality with the Thermobalancing therapy. Forget the surgery that will leave your bank account empty, or the painkillers that you will have to absorb for the rest of your life. Not only is this revolutionary device working fine for accident-related sciatica, it also slows the pain related to age," says Dr. Ralph Saint-Phard, MD, Lincoln Medical and Mental Health Center, USA.
The Thermobalancing therapy is the only way to support blood circulation in the affected area at the capillary level that reduces the swelling and pain dramatically. Please watch the video on how easy it is to use Dr. Allen's device at home: http://www.youtube.com/watch?v=6WwI1TvlXOs.
"The Thermobalancing therapy relieves back pain within days, and works on chronic conditions over time successfully. It is also cost-effective so the users can save money and simultaneously get a superior type of treatment," says Dr. Simon Allen. "Dr. Allen's therapeutic devices provide the only effective natural treatment for lower back pain and sciatica without resorting to drugs and antibiotics."
For more information please visit the Fine Treatment website:
http://finetreatment.com/lower-back-pain-treatment-lumbago-relief/.
About Dr. Simon Allen and Fine Treatment:
Dr. Simon Allen is a highly experienced medical professional. His specialty is in the internal medicine and cardio-vascular field. He has treated a wide range of chronic diseases, including patients after a heart attack, with kidneys problems, including kidney stones disease, prostate and spine conditions, as well as metabolic disorders. Fine Treatment exclusively offers Dr. Allen's devices for chronic prostatitis and BPH treatment, coronary heart disease, dissolving kidney stones, as well as back pain and sciatica relief.