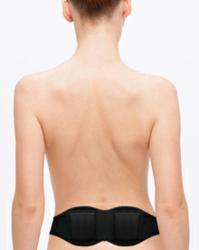 Dr. Allen's therapeutic devices provide an advanced natural treatment easing lower back pain without harmful injections, drugs and surgeries.
London, UK (PRWEB) October 24, 2012
Dr. Caplan has stated: the quest for relief from pain has now resulted in the deaths of 19 people and a total of 247 confirmed infections of fungal meningitis from tainted steroid injections and thousands more who got the injections are worried that they too may wind up sick or dead (reported by NBCN-News, 18 October 2012). On the other side, Dr. Allen's therapeutic devices help to relieve lower back pain harmlessly and effectively, Fine Treatment reveals.
"Back pain injections can cost as much as $600 per shot", says Dr. Caplan. "Insurance will pay much of the cost and there are often a lot of shots given. Sadly, there are lots of programs all over America that advise you on the Internet and in newspaper ads to come in and get a shot for back pain before trying anything else – that's just lousy medicine."
The news on the effectiveness of the Thermobalancing therapy for the relief of sciatica and lower back pain were broadcast on CNBC in 21st Century Health TV series. This natural therapy can treat chronic back pain by improving blood circulation in the affected areas. You can watch a short video with Dr. Simon Allen and Ariana Adjani reporting on the benefits of new Dr Allen's therapeutic devices and the Thermobalancing therapy itself: http://youtu.be/LIqPdZfJ5Zw.
According to the National Institutes of Health (NIH), an effective pain relief may involve a combination of prescription drugs and over-the-counter remedies. However, certain medicines, even those sold over the counter, may conflict with other medications taken by the user, may also cause side effects, such as drowsiness, or may even lead to liver damage. As for lower back surgeries, the NIH reports, "Since invasive back surgery is not always successful, it should be performed only in patients with progressive neurologic disease or damage to the peripheral nerves."
"Lower back pain relief with new therapy without drugs and surgeries allows people to enjoy life again," says Dr. Allen. "Dr. Allen's therapeutic devices provide an advanced natural treatment easing lower back pain without harmful injections, drugs and surgeries."
Please visit the Fine Treatment for more information: http://www.finetreatment.co.uk/sciaticatreatment/lowerbackpaintreatment.html.
About Dr. Simon Allen and Fine Treatment:
Dr. Simon Allen is a highly experienced medical professional. His specialty is in the internal medicine and cardio-vascular field, and he has treated patients after a heart attack, with kidneys problems, including kidney stones disease, prostate and spine conditions. Fine Treatment exclusively offers Dr Allen's devices for prostate treatment: chronic prostatitis and BPH, coronary heart disease, dissolving kidney stones, as well as for back pain and sciatica relief.