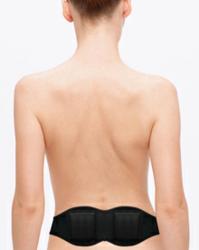 Why are men and women obligated to choose a back treatment which can harm them?
London, UK (PRWEB) December 19, 2011
There is no medication that treats a problem in the spine so people have to take painkillers to get rid of pain. Contrary to drugs Fine Treatment offers a device for the treatment of lower back pain that tackles the cause of a problem in the spine and thus treats lower back pain effectively. That is why the Thermobalancing Therapy enabled by the natural device is more desirable than other methods.
Fine Treatment offers 2 devices: Dr Allen's device for Sciatica treatment that treats an inflammation of the Sciatic nerve and Dr Allen's Device for Lower Vertebrae Care specially designed for the treatment of intervertebral discs and osteoarthritis in the spine.
"Our back pain treatment is unique as it relieves lower back pain without side effects, so people should be aware about this therapy," says Dr Allen and ads: "Why are men and women obligated to choose a back treatment which can harm them?"
These natural devices provide the Thermobalancing Therapy when they are applied to the affected area. Dr. Simon Allen has discovered the Origin of Diseases which explains that chronic problems in the spine are caused by certain processes at the capillary level, leading to angiogenesis, which in fact is growth of an additional tissue. This additional tissue damages intervertebral disc and it causes osteoarthritis or puts pressure on the Sciatic nerve and it causes inflammation.
Fine Treatment has designed videos about treatment of back pain, for instance, the video for the lower back pain treatment on this page shows how easy it is to use a natural device at home. The device works at the capillary level by creating favourable conditions for the capillaries to improve the blood flow in the damaged area. Dr Allen's therapeutic device relieves back pain in several hours and has long lasting effect.
About Dr. Simon Allen and Fine Treatment:
Dr. Simon Allen is a highly experienced medical professional. His speciality is in the cardio-vascular field and he treated patients with coronary heart disease, renal, joints, kidneys and prostate conditions and later subsequently headed a hospital. Fine treatment produces and distributes devices for BPH treatment, recovery after a heart attack, to dissolve kidney stones and to relieve back pain. For more information please visit the Fine Treatment website: http://www.finetreatment.co.uk/natural-alternative/vertebrae-treatment.html
# # #