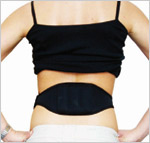 There is no need for people to choose a treatment with medication or surgery which maybe not effective and rather harmful.
London, UK (PRWEB) January 19, 2012
With extremely effective pain relief result Dr. Allen's device for lower back treatment is praised highly by its users. The natural therapy achieved with Dr. Allen's device has no side effects and is suitable for users regardless of their age and health condition. Fine Treatment offers this first effective non-invasive treatment that works by improving the condition of the intervertebral disks, read more at http://www.finetreatment.co.uk.
A testimonial of 5 January 2012 given by Hubert, a user one of Dr. Allen's device, is insightful: "I am 85, very active and have enjoyed good health throughout most of my live. I have always been interested in exercise and taking long walks. The back problem started in about October, 2009. I found it very painful to bend while working on my allotment; by the end of the year I gave up the allotment and went to have a scan on my back. The results were Grade 2 anterolisthesis of L4 on L5." This is a serious back problem when one vertebra slips forward over another.
Commenting on the diagnosed back problem and his doctor's recommendations, he replies: "I was devastated. My back had never given me a problem. It meant I had to give up the allotment which was my favourite hobby. The only treatments recommended were painkillers and physiotherapy but they didn't help."
Hubert shares that he started to wear Dr. Allen's device for the lower back pain treatment on 5 May 2010. He highlights that it is easy to use the device saying it is "very easy to use. One forgets one is wearing it." A year and a half since the start of his treatment with Dr Allen's device, Hubert is highly pleased with the lasting treatment results. He says, "My option is positive. It works regarding relief from pain, particularly when walking."
"The Thermobalancing Therapy promotes a healthier and longer life by supporting the spine and treating the shrinkage of intervertebral discs," says Dr. Allen. "There is no need for people to choose a treatment with medication or surgery which maybe not effective and rather harmful. So the obvious choice is a natural solution with proven results."
About Dr. Simon Allen and Fine Treatment:
Dr. Simon Allen qualified as medical doctor 40 years ago. Fine treatment offers devices for the treatment of a prostate, including BPH treatment and prostatitis, for recovery after a heart attack, to dissolve kidney stones and to relieve back pain.
###