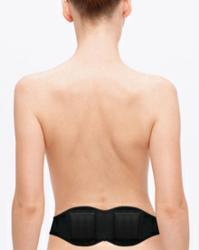 Dr. Allen's therapeutic device is the first effective natural treatment for the spine and sciatica. It's cost-effective & widely affordable.
London, UK (PRWEB) October 05, 2012
Unlike acute pain, which is a mere signal of an immediate problem such as burns, cuts or injuries, the cause of chronic pain usually develops in an organ or a body area over a long time. So different approaches to acute and chronic conditions are appropriate, and a lasting treatment that works continuously on the chronic problem can achieve significantly better results. This is why back pain relief with Dr. Allen's therapeutic devices is effective for chronic lower back pain, as well as for the upper spine area, Fine Treatment reveals.
A recent review finds no evidence to suggest that spinal manipulation is more effective than other therapy options for acute back pain, says Health Behavior News Service in 'Evidence Does Not Back-Up Spinal Manipulation for Acute Lower Back Pain' on 9/20/2012. It produces better results in chronic cases, though multiple sessions come at a substantial cost.
According to Dr. H J McQuay, from the Nuffield Department of Anaesthetics, University of Oxford, patients with chronic pain are unlikely to respond to conventional analgesics - i.e. painkillers. These pains often have little pattern, but are less troublesome when the patient is distracted. The efficacy dose-response curve for NSAIDs is flatter than the dose-response for adverse effects such as gastrointestinal symptoms, dizziness, and drowsiness. Increasing the dose to improve analgesia is therefore more likely to increase adverse effects than to improve analgesia.
Dr. Simon Allen's research on The Origin of Diseases explains the cause of degenerative discs disease: over time, wear and tear processes occur with changes of their shape. In order to restore the discs, the surrounding tissue reacts by increasing of the number of capillaries and thus the tissue around them swells. The spine has a unique strong construction which includes bones, discs, muscles and ligaments, so the swelling creates pressure and, consequently, pain, stiffness and immobility.
The Thermobalancing therapy is the only way to support blood circulation in the affected area at the capillary level bringing nutrients to the intervertebral discs and improving their condition. In addition, it is reduces the swelling dramatically relieving the disturbing symptoms. Please watch the video on how easy is to use Dr. Allen's device at home: http://www.youtube.com/watch?v=kNqPVtqdSRo.
"The Thermobalancing therapy relieves lower back pain within days by tackling its cause," says Dr. Simon Allen. "Dr. Allen's therapeutic device is the first effective natural treatment for the spine and sciatica. It's cost-effective and widely affordable."
For more information please visit the Fine Treatment website: http://www.finetreatment.co.uk/sciaticatreatment/lowerbackpaintreatment.html.
About Dr. Simon Allen and Fine Treatment:
Dr. Simon Allen is a highly experienced medical professional. His specialty is in the internal medicine and cardio-vascular field, and he has treated patients after a heart attack, with kidneys problems, including kidney stones disease, prostate and spine conditions. Fine Treatment exclusively offers Dr Allen's devices for prostate treatment: chronic prostatitis and BPH, coronary heart disease, dissolving kidney stones, as well as for back pain and sciatica relief.