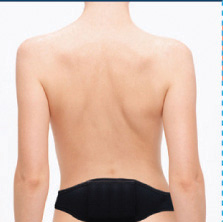 Dr. Allen's therapeutic device is the first effective natural treatment for the spine and sciatica and is widely affordable.
London, UK (PRWEB) September 27, 2012
Costing only $130, the Thermobalancing therapy enabled by Dr Allen's Device saves a substantial sum of money for its users with lower back pain, as a spinal surgery not only costs tens thousands of US dollars but, as recent news reported by Kelly Holleran shows, it does not lead to desired results and may even worsen the symptoms, Fine Treatment reveals.
The article by K. Holleran in The Madison Record titled 'Woman claims doctor performed unnecessary spinal surgery' of 8/27/2012 states: "A woman claims her doctor performed an unnecessary spinal surgery on her, which allegedly exacerbated her medical problems. She also experienced severe pain and suffering, lost her ability to enjoy life, incurred medical costs and lost wages because of the operation, the complaint says."
It has been believed that acupuncture is cost-effective for the treatment of chronic pain. Researchers from the Department of Health Sciences, University of York, UK, investigated the economic value afforded by acupuncture for the treatment of lower back pain and other painful conditions. The researchers discovered correlations between the clinical benefits of acupuncture and medical cost savings. The researchers concluded, "Acupuncture appears to be a cost-effective intervention for some chronic pain conditions."
The New York Times article on 'Acupuncture Is Popular, but You'll Need to Pay' says, "for most people, money is a consideration. Sessions with an acupuncturist run about $65 to $120, depending on where you live (and some leading acupuncturists charge as much as $300). Most ailments require at least three treatments, while some chronic issues like arthritis might require biweekly or monthly sessions, depending on the situation" (by L. Alderman, May 7th, 2010).
Thus, up until recently, the price paid for the most cost-effective treatment on the market has been coming to a thousand US dollars, and more. Unlike these huge cumulative costs, the price of Dr Allen's device is only $130, making the Thermobalancing therapy both effective and cash saving for people with lower back pain. Watch the video on how easy is to treat lower back pain with Dr. Allen's device at home: http://www.youtube.com/watch?v=kNqPVtqdSRo.
"The Thermobalancing therapy relieves back pain within days and is, moreover, cost-effective, so people can save money now and spend it in any other way they wish," says Dr. Simon Allen. "Dr. Allen's therapeutic device is the first effective natural treatment for the spine and sciatica and is widely affordable."
For more information please visit the Fine Treatment website: http://www.finetreatment.co.uk/sciaticatreatment/lowerbackpaintreatment.html.
About Dr. Simon Allen and Fine Treatment:
Dr. Simon Allen is a highly experienced medical professional. His specialty is in the internal medicine and cardio-vascular field, and he has treated patients after a heart attack, with kidneys problems, including kidney stones disease, prostate and spine conditions. Fine Treatment exclusively offers Dr Allen's devices for prostate treatment: chronic prostatitis and BPH, coronary heart disease, dissolving kidney stones, as well as for back pain and sciatica relief.