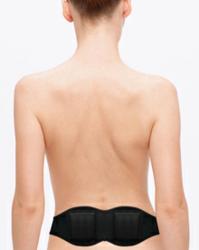 Dr. Allen's therapeutic devices provide the first effective natural back pain relief, helping to prevent the addiction to painkillers problem.
London, UK (PRWEB) October 11, 2012
The Thermobalancing therapy helps to achieve a natural relief from persistent back pain caused by chronic problems in the spine; moreover, it protects the users from getting addicted to various painkillers - an important issue raised in a new report on 'Painkiller addiction can change brain chemistry' of 5 October 2012, highlights Fine Treatment. Dr. Allen's devices treat the area of the body, to which they are applied locally providing steady pain relief; they work without the need for addictive painkillers, which in essence cause a new addiction problem requiring a separate treatment.
An article in the Spine-Health titled 'How Pain Killers Sometimes Increase Chronic Pain', says: Most people do not know that taking painkillers over a long period of time may in fact increase a patient's sensitivity to pain and leads to addiction from these drugs. Becoming addicted to pain medication is a new disease. Taking the painkillers causes a change in one's brain chemistry that is not under the individual's control. It is absolutely not anyone's fault. Addiction is a chemical, physical disease, one that requires expert medical treatment in a safe, humane environment.
Dr. Simon Allen's research on The Origin of Diseases explains the cause of degenerative discs changes, i.e. wear and tear processes occurring over time with changes in their shape, and commonly responsible for pain. In order to restore the discs, the surrounding tissue reacts by increasing of the number of capillaries and thus the tissue around them swells. The spine has a strong construction which includes bones, discs, muscles and ligaments, so even a small swelling creates local pressure and, consequently, pain, stiffness and immobility.
The Thermobalancing therapy is the only way to support blood circulation in the affected area at the capillary level bringing nutrients to the intervertebral discs and improving their condition. In addition, it is reduces the swelling dramatically relieving the disturbing symptoms. Please watch the video on how easy is to use Dr. Allen's device at home: http://www.youtube.com/watch?v=kNqPVtqdSRo.
"Lower back pain treatment and relief without surgery can be a reality with the Thermobalancing therapy. Forget the surgery that will leave your bank account empty, or the painkillers that you will have to absorb for the rest of your life. Not only is this revolutionary device working fine for accident-related sciatica, it also slows the pain related to age," says Dr. Ralph Saint-Phard, MD, Lincoln Medical and Mental Health Center, USA.
"The Thermobalancing therapy relieves lower back pain within days by tackling its cause," says Dr. Simon Allen. "Dr. Allen's therapeutic devices provide the first effective natural back pain relief, helping to prevent the addiction to painkillers problem."
For more information please visit the Fine Treatment website: http://www.finetreatment.co.uk/sciaticatreatment/lowerbackpaintreatment.html.
About Dr. Simon Allen and Fine Treatment:
Dr. Simon Allen is a highly experienced medical professional. His specialty is in the internal medicine and cardio-vascular field, and he has treated patients after a heart attack, with kidneys problems, including kidney stones disease, prostate and spine conditions. Fine Treatment exclusively offers Dr Allen's devices for prostate treatment: chronic prostatitis and BPH, coronary heart disease, dissolving kidney stones, as well as for back pain and sciatica relief.