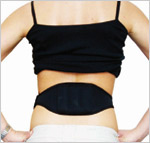 There is no logical reason why people should avoid the first effective natural painkiller
London, UK (PRWEB) December 28, 2011
The effective natural treatment for intervertebral discs with Dr Allen's devices for the first time tackles the cause of a problem and by terminating swelling in the spine relieves pain naturally.
Taking painkillers blocks not only pain signals to the brain but also functional ones which are essential for normal performance of the body. They are not only unsuccessful in a treatment but in many cases depress metabolic processes for the normal functioning of the body. As a result different researches have suggested that taking painkillers may increase the risk for kidney problems or people taking painkillers such as ibuprofen face a greater risk of suffering a second heart attack. Furthermore, most of painkillers users can feel constipation and fatigue.
The hopelessness of treatment with medication and painkillers for lower back pain treatment is the reason why people look for surgical solutions, the consequences of which are often extremely poor: bleeding, infection, spinal fluid leaks, nerve damage and paralysis.
"There is no logical reason why people should avoid the first effective natural painkiller," says Dr Allen. "Our device for lower vertebrae care relieves back pain but also treats the intervertebral disc in your spine."
Dr Allen in his research the Origin of Diseases has explained that the process of the development a problem in the spine as follows: the swelling of the tissue in the spine results with the deficiency of blood circulation through this tissue and thus the affected tissue does not get enough blood. This in turn lowers the temperature in this micro area which worsens the condition because it leads to further expansion of capillaries (additional swelling), and consequently to greater pressure on the intervertebral discs that changes its configuration.
Dr Allen's Device for Lower Vertebrae Care creates an ideal environment for capillaries to stabilise the body temperature in the spine tissue. This improves the blood flow in the tissue stopping the capillaries grows. Consequently the pressure on the nerves decreases reducing pain and other lower back pain symptoms. For more information please visit the Fine Treatment website: http://www.finetreatment.co.uk/natural-alternative/vertebrae-treatment.html.
About Dr. Allen and Fine Treatment:
Dr. Simon Allen treated patients with different internal chronic diseases for 40 years. Fine treatment distributes devices for a prostate treatment, including treatment of BPH and chronic prostatitis, for recovery after a heart attack, to dissolve kidney stones and to relieve back pain in the lower and upper spine areas.
###