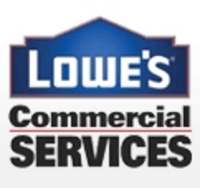 ...we're excited to join the jobsite123 family...and save commercial customers time and money...
Fort Lauderdale, FL (PRWEB) March 14, 2011
As the largest and fastest growing online community of decision makers in the commercial construction and design industry, jobsite123 is pleased to welcome Lowe's Commercial Division as the newest member in its family of advertisers.
The explosive growth of online sales in recent years has fueled organizations like Lowe's to seek-out laser-targeted marketing venues for commercial, B2B products and services. Lowe's commercially-focused LowesForPros.com facilitates commercial transactions – while saving the Pros time and money.
Rapidly becoming the industry standard for finding qualified commercial contractors and designers, jobsite123 presents an effective venue to help advertisers reach those businesses. jobsite123's new relationship with Lowe's works to improve the bottom line of every company in the industry's eco-system through a simple and effective online tool located at LowesQuotes.com.
"Builders, remodelers, trades people, property managers, and procurement officers are all part of the Lowe's commercial customer segment and we understand the importance of saving time and money. For that reason, we're excited to join the jobsite123 family and bring to the forefront the services and tools that Lowe's has to offer that will do just that – save time and money."
– Amber Miller, Commercial Business Marketing Manager at Lowe's Companies Inc.
For consideration to become an approved product or service Partner with jobsite123, contact an Account Executive at jobsite123.com.
To better understand the benefits of your commercial construction company appearing within a community of similar company profiles, rather than maintaining a stand-alone company website, visit jobsite123.com and click on the video found in 'About Us' at the top of the page.
About jobsite123.com:
jobsite123.com is an online publisher operating a suite of websites offering the largest media agency of its type to the industry, and is a privately held company based in sunny South Florida. It is funded by active construction titans that saw the value in creating a better way to promote and prequalify companies throughout the commercial construction and design industry. jobsite123, BizTools, BizTools Suite, BizWords, BizAds, BizPress, BizTalent, BizDiscounts, BizAlerts, BizStats, BizPartners and related marks are all trademarks of jobsite123.com LLC, all rights reserved.
Media Contact:
Craig Noble, Chief Content Officer
954.513.4511
###