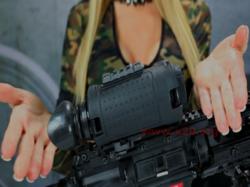 I am so excited to finally have a thermal rifle scope that all my customers can afford.
Las Vegas, NV (PRWEB) January 11, 2013
SPI Corp is a leading manufacturer/distributor of thermal scope systems for US Military, Law Enforcement and Civilian agencies. For over a decade they have produced and distributed thermal imaging systems throughout the world. Their systems have been successfully used in a wide range of scenarios from hog control to combat and police actions. They will be exhibiting their latest technology in booth 6615 at the upcoming SHOT Show 2013 trade show in Las Vegas, NV, January 15-18 2013.
"We feel that the high price of thermal rifle scopes has prevented the technology from being widely accepted by the agencies that can truly benefit from the capability," explained Randall Kolchins, Director SPI CORP. "From our vast experience, we know the awesome advantage that a thermal scope can provide but the purchase price was always too much for most LE agencies. We knew that with our experience we could develop a new FLIR thermal scope solution that is both feature rich and affordable for today's budgets."
A thermal scope is an electronic scope that can be mounted to a rifle and used to aim the weapon much like a standard optical day scope. The thermal scope, however, sees heat energy and not light so it gives the user the capability to see in total darkness. This means that the user can also effectively aim their weapon in total darkness. This see in the dark capability is the significant advantage that a thermal scope claims to have over other technology.
"The annual SHOT Show in our hometown of Las Vegas is the perfect place to debut our new thermal scope products" explained Mr. Kolchins. "This is the show that our target customers all attend". The SHOT Show is an annual gun related trade show held in Las Vegas, Nevada.
"Our newest thermal scope is so cool," stated Darren Desoto, Lead Technician SPI Corp. "I am still amazed at how much technology we got into such a small and affordable package." He went on to exclaim, "Nothing can hide from thermal and shooting a thermal scope is the ultimate experience."
Thermal scope technology is not new; it has been in use by military agencies for decades. Police and civilian agencies have expressed interest in the devices but the most often cited reason for their lack of adoption is because they are too expensive. SPI Corp claims to have found a unique solution that will allow for wide adoption of this technology by reducing the price to a level that most can afford.
"I can't wait for the SHOT Show to start" remarked Jim Santana, Sales Manager, SPI CORP, "At these prices everyone can afford to have a thermal scope and I am so excited to finally have a thermal rifle scope that all my customers can afford. With the new price points we can help people preserve life and property."
SPI Corp is committed to making thermal scope technology available to everyone that needs it. Potential customers interested in learning more about thermal scope technology or for purchasing options, including the entire line of thermal imaging solutions offered by SPI Corp, can visit SPI at Booth 6615 at SHOT Show 2013 January 15-18 2013 in Las Vegas, NV. Interested parties can also find them on the web at http://www.x20.org. Customers seeking immediate attention regarding these products should contact Jim Santana at 702-369-3966.