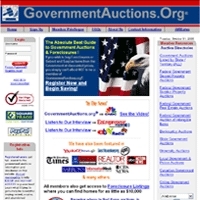 Keeping your car in shape, which includes paying attention to your engine, your tires, car liquids, and making minor aerodynamic modifications can increase your gas mileage by up to 25 percent
Great Neck, NY (PRWEB) July 3, 2008
With skyrocketing gas prices, many Americans have substantially scaled down their travel plans, shopping trips, family visits, and just about every activity that involves their automobiles. Sales of bulky SUVs have plummeted, and the sales of fuel-efficient hybrid cars are on a steep rise.
GovenmentAuctions.org, the leading bargain-hunter website that provides information on government auctions and foreclosures has decided to step in and provide some relief. To this end, while the prospect of cheaper gasoline does not seem to be in anyone's future, there are quite a number of ways to stretch your gas dollars to achieve substantially more mileage per tank. These include techniques for saving at the pump, taking care of and making minor modifications to your car, and changing your driving habits.
"Keeping your car in shape, which includes paying attention to your engine, your tires, car liquids, and making minor aerodynamic modifications can increase your gas mileage by up to 25 percent," says company president Ian Aronovich, adding that "getting yourself into the habit of driving more efficiently can also save you up to $2.00/gallon." Moreover, as another company spokesman points out, you can also substantially stretch you gas dollars in the way that you fill up your automobile.
To provide some relief for it's members' pocket books this summer, GovernmentAuctions.org is giving away a special comprehensive report on how to save money on soaring gas prices and to economize so as squeeze the most out a tank of gas. The report contains more than 30 money saving tips that will make the summer driving season more economical for you and your family, and is free to all GovernmentAuctions.org members.
Why is GovernmentAuctions.org giving away this "Saving Money on Gas" report to its members? "As a website tailored to bargain hunters of every stripe GovernmentAuctions.org is a top-notch resource for those wishing to save money generally," says Aronovich. "We have labored hard to make this happen and we intend to continue improve our offerings to meet needs of our bargain minded customers and the public at large, and so while this is not directly related to the site's core business, it's something important enough to address, especially in light of the recent spikes in already inflated gas prices and their the paralyzing effect."
About GovernmentAuctions.org®
GovernmentAuctions.org (http://www.governmentauctions.org), a division of Cyweb Holdings Inc., is a membership-based web site for bargain hunters that helps its users find and participate in government auctions of seized and surplus property. It also provides its members with access to its nationwide database of real estate foreclosure listings across the United States.
About Cyweb Holdings Inc.
Cyweb Holdings, Inc. (http://www.cywebholdings.com) is a company that, through its divisions and holdings, provides high quality web-based information services to the public and other businesses. The company consists of personnel and management who, combined, have extensive experience in business, government, law, software and technology, and who have committed themselves to use their backgrounds and knowledge to create, sustain, and invest in superior information
products in various markets.
Interview Contact: I. Aronovich Tel: 516-467-4518 Fax: 516-706-1072 Attn: PR URL:
http://www.governmentauctions.org Business Address: 70 Middle Neck Rd., Suite 5, Great Neck, NY 11021
###