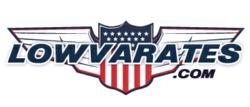 We felt like this was a worthy cause to donate and particularly since we were giving to hard working troops.
Lehi, UT (PRWEB) December 16, 2011
LowVARates.com reached out to a local Utah military unit with a donation to help ensure their families and loved ones receive a nice Christmas party.
The company donated $500 to the Maneuver Enhancement Brigade Christmas party to help cover some of the cost and show appreciation for what our troops have done for this great nation.
Owner of LowVARates.com, Eric Kandell, has helped various families in Utah for the past 4-5 years during the holiday season and decided to continue the Christmas tradition.
"During Christmas we always try and reach out to a few local military families and help them out," Kandell said. "We felt like this was a worthy cause to donate and particularly since we were giving to hard working troops."
The money was specifically used to feed dinner to 225 soldiers and their families and provide a nice catered meal as opposed to the typical Army food.
Director of the Christmas party, Tina Semanoff, was very grateful for the donation and LowVARates.com help with the food.
"With the donation we were able to have a caterer come in and cook a nice Christmas dinner for our soldiers," Semanoff said. "Our soldiers work really hard and definitely deserved a nice Christmas party for their families."
The party and meal was organized and planned by Semanoff as the Family Readiness Group raised donations from several local Utah companies.
"We were very grateful for the donation made by LowVARates and it was a huge part of making our Christmas party a success," Semanoff said.
LowVARates.com has donated nearly $15,000 in 2011 to military organizations and families as a way to show it's appreciation for the sacrifices the men and women of the U.S. Armed Forces make.
"As a company it has been our policy to give back to the troops as much as we possibly can," Kandell said. "However, it's impossible to put a dollar amount on what our troops do to maintain our freedoms."
ABOUT LOWVARATES.COM
For the past 20 years LowVARates.com has been dedicated to serving veteran homeowners. We specialize in providing VA loans to qualified veterans for mortgage purchases and refinances. These loans provide lower interest rates and monthly payments than other traditional loans.
VA loans are currently the only program left that allows no-money-down loans providing a secure mortgage option guaranteed by the Federal Government. Our professional staff and loan officers will assist you to lock in low interest rates and take advantage of the unique opportunity provided through VA loans.
###