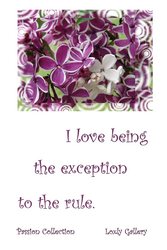 October is Breast Cancer Awareness Month, due to many family members being affected by cancer, we feel that we need to give back to the community the best way we can - through art and photography. - Deborah Carney
Far Rockaway, NY (PRWEB) September 27, 2010
To celebrate Breast Cancer Awareness Month, one of the prints in the Loxly Gallery Passion Collection, Much is Expected, during the month of October generates donations of 75% of the retail price to breast cancer research. The print is a photograph taken by Missy Ward, who raises thousands of dollars for cancer research each year, with a quote that strikes home with her and expresses our need to "give back".
"I love being the exception to the rule" The Sensation Lilac in this photo is a hybrid and there is the one white bloom that pops out to show it is still unique. Some call it a throwback, I call it the flower showing us it's history in it's own small way. Purchasing this print from Loxly Gallery will generate a donation to an organization that grants wishes to sick children.
Why not just make your donation yourself? Because in addition to making donations to charities the artists that created these prints want to give you something to inspire you also. The Passion Collection includes prints with quotes about love, courage, dedication and ambition, all created to make you think and enjoy looking at.
This is a collection of prints made with quotes by people that shared their passion and vision with us, or that suggested a quote that is inspirational to them. In return, we are donating a portion of the retail price from the sale of each print to the non-profit of choice for the person whose words we are using, or that suggested the quote. It isn't just about making money and donations, it is about sharing and inspiring others too.
###