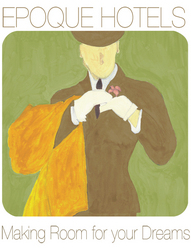 Miami, FL (PRWEB) May 19, 2010
Epoque Hotels announces its new loyalty program called Club Epoque.
For every reservation made, club members earn money towards their next reservation.
Every time a guest makes a reservation on http://www.epoquehotels.com, Epoque Hotels will give them money back. Each time they check out of an Epoque Hotel, they will have another 6% of the total room price added to their bank. Once the guest accrues at least 50 USD, they will be able to start using their bank. They can make reservations using the banked money and apply it directly to the reservation. It's like having a gift card whenever they want it.
In brief:

The guest registers with Club Epoque
The guest makes a reservation at one of our hotels
The guest stays at the hotel
We give The guest 6% of their stay* back, to their Epoque Bank
The guest earns money and uses that money towards future stays
The guest can buy more bank to bolster their existing amount
In addition, the guest can gift their bank to someone else, giving them access to a deeply discounted trip. Or, they can buy bank, so that they have more savings on their next trip or a trip they give as a present. Also, the guest can save what's in their bank to use whenever they want, wherever they want. And, with no blackout dates, they're always able to use their bank for exactly the hotel stay they want, when they want.
To view the Terms and Conditions of Club Epoque, please visit http://www.epoquehotels.com/clubepoque/join-club-epoque.html
*Qualifying reservations are completed stays, do not include taxes and do not include extras. All amounts will be converted to US Dollars. All reservations must be verified by the hotel and can take up to 45 days to be approved; until the reservation has been approved by the hotel, points will be considered as pending.
###