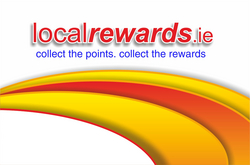 Carrigalines independent businesses have taken the initiative to keep the local economy vibrant by joining together to launch Irelands first town-wide Loyalty Card.
Cork, Ireland (PRWEB) July 27, 2010
Like many communities Carrigaline, Co. Cork is facing increasing competition from larger shopping destinations within a short distance of the town. This trend towards larger destination shopping combined with the downturn in the economy is making circumstances difficult for traders within the town. But Carrigaline's independent businesses have taken the initiative to keep the local economy vibrant by joining together to launch Ireland first town-wide Loyalty Card, using technology developed by a Cork company to do so.
Carrigaline is not the first town to try and encourage local shopping but it is the first to allow individual businesses accept a single town Loyalty Card. Unlike Discount cards, which give a fixed discount or other benefit to every cardholder regardless of how often they visit a business, Loyalty Cards (or Reward Cards) allow a business to issue points every time a customer visits. The more the customer uses the card the more points they earn and the greater the reward they get. Because the business is not giving a discount to every one-time visitor who walks through the door they can give bigger rewards to their most regular customers.
Operation of the Carrigaline program is simple; a customer collects their free card from a participating business and shows this card anytime they shop in a participating premises. Once the customer has enough points earned they can avail of a reward which might be anything from a discount to free gifts. A key aspect of the program is that points earned in a business are only valid for rewards in that business so the local takeaway doesn't have to worry about people turning up after the pub demanding free chips.
The response from businesses and particularly from customers has been very positive. "It's a great idea," said Theresa Woods a local resident, "It's always nice to get something back when you shop locally and it's good to see businesses in Carrigaline doing something to keep the town going."
The Carrigaline card is operating under the localrewards.ie banner. This is a service which has been specifically set up for town cards by myrewardcard.ie the Cork-based developer of the technology. The company developed a fully hosted service that they originally provided directly to independent businesses who were looking for more power and information than could be provided by the stamped loyalty cards that are typically used. "I had seen the proliferation of cardboard stamped cards that did nothing for the business issuing them," said the Chief Executive of myrewardcard.ie, Brian O'Connell. "It was obvious that smaller businesses would benefit from a reward system that showed them the same sort of transaction patterns that the supermarkets see. So we built it."
The resulting service makes advanced Loyalty Card Programs available to the smallest business. It requires only an internet connection and browser to operate and removes the need for clients to update software or make database backups. This platform is now used by a range of businesses from restaurants to caravan parks and butchers to hardware stores. Just like the traders in Carrigaline each of these can issue their own points while at the same time their customers can register their cards online to see their transaction history. The platform also helps protect customers points if they lose their cards and uniquely allows customers to "freeze" their card without waiting for a replacement.
The myrewardcard.ie platform is now being used to help towns issue Loyalty Cards under the localrewards.ie banner, with Carrigaline being the first to do so. The advantage of this approach is that a person only needs to carry one card in any town so individual businesses don't have to fight for wallet space. And because the system is based upon giving rewards to regular known customers rather than offering discounts to anonymous cardholders it can be used to encourage shopping across the community using a range of promotions such as those planned for Carrigaline. "Once the cards are in wide use we are looking at promotions such as draws for customers who use the card in 5 different businesses in 1 month or rewards for the person who has the ten thousand transaction. These will be organised by the the local traders," according to Brian O'Connell "and will bring the real strength of a town Reward Card to the fore."
The Carrigaline localrewards program is starting with 8 independent businesses covering a wide range of markets including bookshops, shoe stores, tyre centers and pet shops. More will be accepting the card over the coming weeks. "The response from the community has been fantastic." says Damian McCarthy,  Sales Director with myrewardcard.ie. "Independent businesses know they need to work together and create a sense of community if they want to compete with the larger chains. localrewards.ie helps them do that".
About myrewardcard.ie and localrewards.ie
localrewards.ie is a trading name of myrewardcard.ie. myrewardcard.ie is located at Waterfront Business Centre, 5 Lapps Quay, Cork, Ireland. The company provides a custom-built hosted software solution that allows independent businesses or groups to operate branded Reward Cards without the need for specialised hardware, IT knowledge or Point-Of-Sale integration.
Contact Information
For further information or to bring the localrewards.ie platform to your community please contact Brian O'Connell at 021-2349920 or at boc (at) myrewardcard (dot) ie. Alternatively you can follow us using the methods below;
localrewards.ie
Website: http://www.localrewards.ie
Twitter: http://www.twitter.com/localrewardsie
Facebook: http://www.facebook.com/pages/localrewardsie/121191754567301
myrewardcard.ie
Website: http://www.myrewardcard.ie
Twitter: http://www.twitter.com/myrewardcardie
Facebook: http://www.facebook.com/pages/myrewardcardie/119898154705664
###