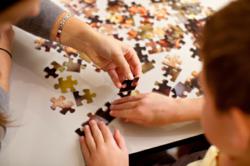 "In this difficult economy, we anticipate an even greater number of people who qualify for financial assistance will seek our care. With the help of CareFirst, we will augment our commitment to meeting their needs." - Janet Simon Schreck
Baltimore, MD (PRWEB) April 19, 2012
The Loyola Clinical Centers (LCC) has been awarded $10,000 from CareFirst BlueCross BlueShield (CareFirst) to continue providing affordable and accessible health services to underserved populations.
The LCC will use the money to partially offset fees for clients who cannot afford psychology, literacy, pastoral counseling, or speech-language pathology/audiology care (known as 'allied health') at full price.
"I am both grateful and thrilled by CareFirst's generous support of our efforts to offer critical, state-of-the-art services to the Baltimore community," said Janet Simon Schreck, M.S., executive director of the LCC. "In this difficult economy, we anticipate an even greater number of people who qualify for financial assistance will seek our care in the coming year. With the help of CareFirst, we will augment our commitment to meeting their needs."
Increased access to the LCC's allied health services will result in improved academic performance among school-age children; better mental health behaviors between and among children and adults; enhanced communication between and among children and adults in school, work, play, and other social interactions; and improved social participation by adults with chronic and degenerative cognitive-communication issues. In 2010, 65% of the 1,757 clients treated by the LCC received free or reduced-cost services based on the LCC's sliding fee scale.
"We are happy to support the work of Loyola Clinical Centers and this funding will allow the organization to better address their patients' health needs and to improve overall health outcomes for low-income populations," said Maria Harris Tildon, CareFirst senior vice president of public policy and community affairs. "Our support for programs like this is part of our regional efforts to enhance access to health care and social services for some of our region's most vulnerable populations."
About the Loyola Clinical Centers:
The Loyola Clinical Centers provides state-of-the-art facilities and treatment for people experiencing difficulties in the areas of psychology, pastoral counseling, literacy, hearing, speech, and language. The LCC operates from three locations: Loyola Clinical Centers Belvedere Square and Loyola/Notre Dame Library in Baltimore City, and Loyola's Columbia Graduate Center in Columbia, Howard County. Some services are also provided off-site through partnerships with schools and community agencies. From these locations, the LCC is devoted to wellness in every aspect—from wellness of an individual or a family, to wellness of the community as a whole. Operating under the auspices of Loyola University Maryland, the LCC serves a dual function: to provide hands-on clinical training to Loyola graduate students, and to supply affordable, quality care to underserved members of the greater Baltimore community. The collaboration among community, students, and expert clinicians at the LCC shows that integrated care is truly a benefit for everyone.
About CareFirst BlueCross BlueShield:
In its 75th year of service, CareFirst, an independent licensee of the Blue Cross and Blue Shield Association, is a not-for-profit health care company which, through its affiliates and subsidiaries, offers a comprehensive portfolio of health insurance products and administrative services to 3.4 million individuals and groups in Maryland, the District of Columbia and Northern Virginia. In 2011, CareFirst contributed $51 million to community programs designed to increase the accessibility, affordability, safety and quality of health care throughout its market areas. To learn more about CareFirst BlueCross BlueShield, visit our website at http://www.carefirst.com or follow us on Twitter: http://twitter.com/CareFirst_News.