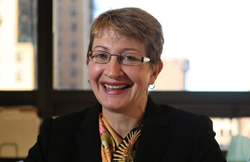 Baltimore, MD (PRWEB) January 06, 2015
Loyola University Maryland has named Kathleen A. Getz, Ph.D., the next dean of the Rev. Joseph A. Sellinger, S.J., School of Business and Management.
Getz, who served as dean of the Michael R. Quinlan School of Business at Loyola University Chicago from 2011 through December 2014, is currently on a research sabbatical leave as professor of management there. She assumes her new role at Loyola on July 1, 2015.
"Dr. Getz has brought visionary and strategic leadership to her role at Loyola University Chicago, where she raised money for a new building and secured a naming gift for the school. She also refocused the strategic plan for the Quinlan School of Business to promote leadership areas in family business, international business and emerging markets, risk management, social enterprise and responsibility, and supply chain management," said Amy R. Wolfson, Ph.D., vice president for academic affairs at Loyola University Maryland. "I look forward to welcoming Dr. Getz—an experienced dean—to the Sellinger School, collaborating with her, and seeing the impact she can make with her expertise, passion for Jesuit business education, innovative approach to leadership, and her commitment to connect with the Baltimore community."
As the Quinlan School of Business dean, Getz oversaw executive, graduate, and undergraduate business and interdisciplinary degree and non-degree programs serving about 2,300 students, 72 full-time faculty, and 29 full-time staff.
"Combining Jesuit principles and business ideals is really the best way to do business education," Getz said. "We are producing the leaders of the future—leaders with an entrepreneurial spirit who will understand the analytics of business. I hope they will graduate with an optimistic approach to their work and their lives. I always encourage students and faculty to see a world of possibilities, rather than one of burdens."
Prior to joining Loyola University Chicago, Getz served at American University's Kogod School of Business from 1991-2011, including as senior associate dean for academic affairs from 2006-2011. Dr. Getz began at American as an assistant professor of management, earned tenure and was promoted to an associate professor of management in 1997, and chaired the department of management from 1999-2002.
"The Sellinger School's strong sense of community, the deep commitment of the Board of Sponsors, and the collegial relationship among students and faculty are the foundation for an environment where ideas and strategies for enriching the educational experience will flourish," Getz said. "One of the things that really is appealing is the newness of the academic leadership team. Everyone will think everything is possible. My husband and I have been wanting to come back East, and I see this as a good opportunity professionally to work with this new academic team. I'm very eager to get started—and to work closely with the other deans to foster interdisciplinary collaboration across the schools."
The Sellinger School provides business education in the Jesuit tradition of emphasizing strong ethical leadership, commitment to social responsibility, and a global perspective. More than 1,100 undergraduate students and approximately 500 graduate students are taught by 66 full-time and 69 part-time faculty, and the school offers programs on Loyola's Evergreen campus and graduate centers in Timonium and Columbia, Md. The Sellinger School earned AACSB accreditation in 1988 and is the only private, internationally-accredited business school in the state of Maryland.
"We take a great deal of pride in the Sellinger School and the Jesuit education it offers both to undergraduate and graduate students, preparing them to be the ethical, global business leaders our world needs," said Rev. Brian F. Linnane, S.J., president of Loyola University Maryland. "With Dr. Getz's experience as a business school dean and her deep understanding of the value and purpose of Jesuit business education, she will bring to Loyola University Maryland a vision that she can bring to life through collaboration with faculty to help shape the Sellinger School's future."
An accomplished scholar, whose work is both interdisciplinary and global in scope, Getz has focused her research on corporate political activity, voluntary codes of conduct, business bribery and governmental corruption, and the role of business in peace building. She earned her B.S. in Human Development from the Pennsylvania State University, her MBA from Gannon University, and her Ph.D. in Business Administration from the University of Pittsburgh.
About Loyola University Maryland:
Established in 1852, Loyola University Maryland is a Jesuit comprehensive university comprising Loyola College, its school of arts and sciences; the Sellinger School of Business and Management; and the School of Education. Loyola enrolls 4,000 undergraduate and 2,000 graduate students from across the country and around the world.