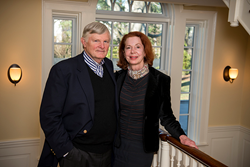 Both of us feel very committed to the idea that education is the answer, and the more access to education there is to a much wider variety of people, the better our community and our nation will be.
Baltimore, MD (PRWEB) February 16, 2016
Loyola University Maryland has received a $2.5 million planned gift from Joanna Armiger Edwards, MBA '00, and her husband, Stuart W. Edwards, to create an endowed scholarship fund for rising undergraduate juniors and seniors who demonstrate both financial need and academic merit.
The Stuart W. and Joanna Armiger Edwards Scholarship will be established with assets bequeathed to Loyola upon the couple's death. The bequest is one of the largest gifts designated for a new endowed scholarship in Loyola's history.
"Educated men and women raise educated families," said Armiger Edwards. "Both of us feel very committed to the idea that education is the answer, and the more access to education there is to a much wider variety of people, the better our community and our nation will be."
Armiger Edwards, 73, is a licensed clinical psychologist who has practiced in Maryland for nearly four decades. She began her career as an administrative assistant at the Federal Bureau of Investigation in Washington, D.C., and Buffalo, N.Y., and went on to work at a farming trade association in Chicago. She later earned a bachelor's degree in psychology from San Jose State University and a Ph.D. in Human Development Psychology from the University of Maryland. She has run her own practice—first in Columbia, Md., and now in Bethesda, Md.—since 1980, and she enrolled in and completed the MBA program at Loyola's Sellinger School of Business and Management to hone her skills as a business owner.
Edwards, 69, is a former computer systems integration consultant. After earning his bachelor's degree in mechanical engineering from the University of Michigan, he served as an officer in the U.S. Navy in the early 1970s. He then worked for several years for the U.S. House of Representatives, during which time he also earned master's degrees in electrical engineering and operations research from The George Washington University. Following a stint at the U.S. Department of Energy as director of policy analysis, he moved to private consulting and worked with the petroleum, banking, and government services sectors for the bulk of his career before his retirement in 2012. He is currently enrolled in Loyola's Master of Theological Studies program.
"There is a vitality amongst Loyola students that you can see and feel when walking around campus. It's different from any other university I've ever attended or visited," said Edwards. "It's that kind of commitment to learning, the Jesuit way, that is the foundation for success. And it's palpable at Loyola."
The couple's gift is included in Loyola's Bright Minds, Bold Hearts comprehensive campaign to raise $100 million for strategic academic, service, and experiential programs and initiatives at the University. The substantial contribution from the Edwardses brings the total raised to more than $66 million.
"We are grateful to Mrs. Armiger Edwards and Mr. Edwards for this generous gift, which will benefit so many students in the future," said Rev. Brian F. Linnane, S.J., president of Loyola. "Their gift will not only make a difference in the lives of Loyola students through the scholarship opportunities it offers, but also a broader impact as it will almost certainly inspire others to consider how they, too, can make a contribution to enrich the distinctive educational experience Loyola offers to students today and tomorrow."
Armiger Edwards and Edwards married in 2002 at All Souls Memorial Episcopal Church in Washington, D.C., the same church where they met on Easter Sunday exactly one year earlier. Together they have two sons and two daughters from previous marriages and six grandchildren.
Armiger Edwards was born in Baltimore and grew up there and in Florida. She volunteers as a garden docent at the Hillwood Estate, Museum, and Gardens and serves on the board of the Washington Society of Psychoanalytic Psychology. Edwards was born in Macon, Ga., and grew up there and in Delaware. He is a competitive equestrian and actively involved in their church.
They live together in Washington, D.C.
About Loyola University Maryland:
Established in 1852, Loyola University Maryland is a Jesuit comprehensive university comprising Loyola College, its school of arts and sciences; the Sellinger School of Business and Management; and the School of Education. Loyola enrolls 4,000 undergraduate and 2,000 graduate students from across the country and around the world.