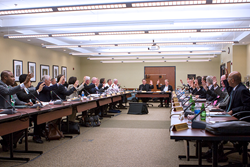 This plan offers Loyola University Maryland the opportunity to look back at the mission that St. Ignatius embraced even before he formed the Society of Jesus and consider how we can enhance the education and experience we are offering our students.
Baltimore, Md. (PRWEB) October 20, 2016
Loyola University Maryland's Board of Trustees voted unanimously on Oct. 19 to endorse the University's next five-year strategic plan, The Ignatian Compass: Guiding Loyola University Maryland to Ever Greater Excellence. The plan sets a new vision for Loyola, anchored in Baltimore, to become a leading national liberal arts university in the Jesuit, Catholic tradition.
"Today's universities recognize that to stay the same is to fall behind. The Ignatian Compass offers Loyola University Maryland the opportunity to look back at the mission that St. Ignatius embraced even before he formed the Society of Jesus and consider how we can enhance the education and experience we are offering our students," said Rev. Brian F. Linnane, S.J., president of Loyola. "In this moment, we are also recognizing that we will only be a stronger university if we fully engage all members of our community—alumni, students, parents, faculty, staff, and administrators. Together, we want to push the envelope to make sure our students are getting the very best, distinctive educational experience that forms them intellectually and spiritually and personally—and that they graduate from Loyola prepared for all that the future holds."
The Ignatian Compass embraces the teachings and philosophy of St. Ignatius of Loyola, the founder of the Society of Jesus, or the Jesuits, who are known for offering a world-class intellectual education that inspires students to become leaders who learn, lead, and serve their communities around the globe. Loyola University Maryland was the first higher education institution to be named for the Catholic saint.
The plan, to be implemented from 2017-22, was developed over the past two years with input from more than 300 members of the Loyola community, including students, faculty, staff, administrators, and alumni. Rebecca Brogan, Ph.D., associate professor of biology, and Marc Camille, Ed.D., vice president for enrollment management and communications, served as co-chairs of the Strategic Planning Steering Committee.
The plan addresses critical challenges now facing higher education in the United States, and looks far into the future to all Loyola can be. Yielding a strong first-year class year after year and retaining a thriving undergraduate population are key, as well as continuing to evolve graduate programs to meet the needs of today's adult learners, both in terms of curricular content and curricular delivery. Loyola also sees further opportunity to develop a culture of engagement that will support philanthropy and expand the University's advancement efforts. The Ignatian Compass calls upon all members of the Loyola community to confront these and other challenges together, and to be more nimble and more flexible—a hallmark of Jesuit education—to deliver upon educational goals with ever greater excellence.
To guide the Loyola community on this journey, the plan identifies four intentionally interconnected strategic priorities: Ignatian Citizenship, Ignatian Educational Innovation, Ignatian Culture of Engagement, and Ignatian Institutional Vitality and Sustainability.
Ignatian Citizenship: Loyola's aim is to become the leader in defining, promoting, and advancing Ignatian citizenship. The University will begin by cultivating a campus-wide ethos of Ignatian citizenship, promoting thoughtful and active civic and global engagement among all members of the University community. Ignatian citizens think of themselves as part of something larger, as responsible for the betterment of a shared world; as men and women who think and act for the rights of others, especially the disadvantaged and the oppressed. Now more than ever, the world needs Ignatian citizens; Loyola is called to act and is uniquely poised to do so from a position of strength and responsibility that is based on its mission and core values.
Ignatian Educational Innovation: The needs of today's students and local, national, and global job forecasts show that Loyola must require undergraduates to plan carefully in order to link liberal arts education with their career goals. By renewing Loyola's commitment to the educational ideals of Ignatius, the University will make a compelling case for the integral synergies between the liberal arts and career and vocational planning. By reiterating that initial call of Ignatius, Loyola will ensure that its education remains deeply committed to the liberal arts, offering students the foundation they need for any and every opportunity they will encounter. At the same time, Loyola will ensure that students gain knowledge and experience through interdisciplinary connections among the liberal arts, STEM, and business, to help them graduate with a deeper understanding of how to respond to the needs of current times.
Ignatian Culture of Engagement: Building on St. Ignatius' belief that people should meet others where they are, The Ignatian Compass will expand opportunities to engage the Loyola community more fully, one individual at a time, by increasing connections and collaboration. To inspire and nurture an Ignatian Culture of Engagement at Loyola, the University will build the infrastructure to support engagement, inform and influence stakeholders, involve the community, and promote a culture of philanthropy to advance, individually and collectively, Loyola's mission. Ignatian citizens are called upon to strive for the greater good, and to educate and empower members of the Loyola community to engage in meaningful ways with one another and the world around them. The University will align or create organizational structures, innovative programs, and sustainable services, fostering critical collaboration that will move the Loyola community forward as one with a common purpose.
Ignatian Institutional Vitality and Sustainability: Returning to its Ignatian roots, Loyola will strengthen its vitality through a unified mission and vision as a university. The Loyola community will embrace the Catholic sense of subsidiarity, appropriately aligning authority with responsibility. Loyola will place decisions in the hands of those who are closest to the issues, empowering them to make decisions that best serve the members of the community; this, in turn, will put the University in the best position for the future by ensuring that it reaches optimal operating efficiency through cost reductions or reallocations. While adhering to that sense of subsidiarity, the University will also need to embrace the Jesuit openness to undertaking new opportunities and the constant challenge for self-improvement. The pace of change requires that today's educational institutions become agile enough to be a leading contributor to the knowledge and service that advance social justice around the globe. With greater financial stability and vitality, Loyola will be better prepared to serve today's students and tomorrow's—and to live out the mission St. Ignatius embraced.
Details about implementation will be available at a later date. More information about The Ignatian Compass is available at loyola.edu/about/strategic-plan.