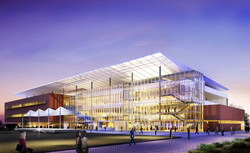 To be positioned at #11 honors the amazing projects that our clients have entrusted us with and the people at LPA who demonstrate that real sustainability is about added value not added cost, on a day-to-day basis
New York, NY (Vocus) July 9, 2009 - Engineering News-
Record releases its annual Top list of 100 Green Design Firms. The list is based on design revenue from registered sustainable projects. ENR annual Sourcebooks and Top Lists are the industry standard references for leadership and market trends.
California-based LPA Inc. ranks high at #11.
According to ENR, these "Top 100 Green Design Firms generated $2.85 billion in revenue in 2008 from projects registered with such green design programs as the U.S. Green Building Council's Leadership in Energy and Environmental Design, an increase of 63.9% over $1.74 billion in 2007."
California firms comprise 12 percent of the list. The next highest representation comes from Texas with 11 percent, New York with eight percent and Pennsylvania, also with eight percent; 18 states had no representation on the list.
"To be positioned at #11 honors the amazing projects that our clients have entrusted us with and the people at LPA who demonstrate that real sustainability is about added value not added cost, on a day-to-day basis," explains Dan Heinfeld, FAIA, LEED AP and President of LPA.
About ENR
Engineering News-Record reports news and intelligence on the global construction market. It is the industry standard for news, information and analysis of the global construction marketplace. ENR has been in publication for more than 130 years.
About LPA Inc.
Founded in 1965, LPA has more than 225 employees with offices in Irvine, Roseville, and San Diego, Calif. LPA provides services in architecture, planning, interior design, engineering, landscape architecture, signage and graphics. LPA has more LEED certified projects than any firm in the state and of their employees, more than 78 percent are LEED accredited professionals. With extensive experience in public and private architecture, LPA designs a diversity of facilities that span from corporate and civic establishments to K-12 schools, colleges and universities.
###