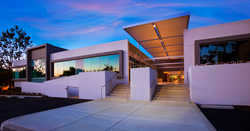 This building is a great model of how to reposition an underutilized, underperforming building and repurpose it to benefit the surrounding community and occupants for decades to come
Irvine, CA (Vocus) October 14, 2009
A sustainable success story on many levels, the Koll Airport Professional Center was once a two-story, underperforming industrial building in an architectural "brown zone." The Koll Company brought in Southern California-based design firm LPA Inc. to transform the structure into a professional office complex with sustainability in mind. From brown zone to green zone, the Koll Airport Professional Center earned LEED Silver certification from the U.S. Green Building Council for Core & Shell.
Named for its close proximity to the John Wayne Airport, the Koll Airport Professional Center offers flexibility and affordability in a series of sustainably designed office suites. The space may serve as one to eight office spaces between 3,000 to 40,000 square feet.
"We saw nothing but potential in this building. We were excited to take an antiquated industrial building –with the bonus of underground parking—and turn it into a top-quality office product," said Koll's Scott Meserve. "We are getting additional interest because of our unique look and because we're one of the few green projects in town."
Structurally, the building's two wings function as one. This feat of informed design and engineering stabilized two independent structures for the cost of one. This yields day lit interior spaces and exterior courts shaded by louvered canopies, encompassed by a simple yet modern exterior.
Sustainable features

The existing building came with a number of sustainable features which include a level of sub-grade parking and access to public transportation.
Preferred parking spaces have been set aside for fuel efficient vehicles.
Overall, 76 percent of existing exterior walls and structural elements were reused.
High performance plumbing fixtures reduce the need for potable water by more than 40 percent.
A high efficiency irrigation system decreases the need for potable water by 50 percent.
All perimeter glazing replaced with a high performance Low-E coated glass.
The existing built up roof was replaced with rigid insulation and a single ply white PVC "cool roof."
Design of the building envelope was a key component to energy efficiency. Louvered canopies, vertical and horizontal sunshades and deep set windows work to shade openings from the sun's rays and minimize solar heat gain. Sunlight that does strike glazed surfaces is mitigated through high performance glass with a low-e coating. High efficiency lighting can be found throughout the subterranean parking garage and building core. Design and construction guidelines for interior improvements add to savings by calling for efficient interior lighting and rooftop mechanical equipment.
The Center is designed to exceed California's rigorous Title 24 energy code by more than 17 percent.
"This building is a great model of how to reposition an underutilized, underperforming building and repurpose it to benefit the surrounding community and occupants for decades to come," finishes LPA Architect Keith Hempel.
Project Address:
17862 Fitch
Irvine, CA 92614
About The Koll Company
The Koll Company, headquartered in Newport Beach, Calif., was founded by Donald Koll in 1962. Originally established as a regional general construction firm, they rapidly grew into a leading real estate services company. Koll's track record includes the development of more than 90 million square feet of office, industrial and retail space. Today, the company is a well-capitalized full-service real estate operating company, driven by some of the most experienced and visionary managers in the industry.
About LPA Inc.
Founded in 1965, LPA has more than 230 employees with offices in Irvine, Roseville, and San Diego, Calif. LPA provides services in architecture, planning, interior design, engineering, landscape architecture, signage and graphics. They have more LEED certified buildings than any firm in the state and of their employees, more than 78 percent are LEED accredited professionals. With extensive experience in public and private architecture, LPA designs a diversity of facilities that span from corporate and civic establishments to K-12 schools, colleges and universities.
###