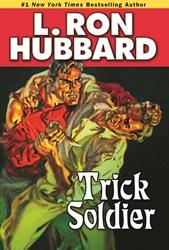 Hubbard knew exactly what it meant to be a Marine. As he wrote in 1935: 'Most of the fiction written about [Marines] is of an intensely dramatic type, all do-or-die and Semper Fidelis.'
Hollywood, CA (PRWEB) August 12, 2013
As part of announcing the latest release in the 80-volume series of The Stories from the Golden Age, "Trick Soldier" by L. Ron Hubbard, Galaxy Press has also announced its streamlined website, http://www.galaxypress.com, enabling a much faster navigation to not only find the full line of Stories from the Golden Age, but also Writers of the Future, Battlefield Earth and the Mission Earth series.
"Trick Soldier" is a story centered around two Marines, Lieutenant Flint, hard-edged and muscle-bound who radiates machismo, and Captain Turner, a Trick Soldier—smart and at attention. They're polar opposites—like Sean Penn and Michael J. Fox in Casualties of War. They didn't get along in boot camp, and ten years later nothing has changed. But now is the time for heroes to rise and cowards to fall. And when brute strength confronts military honor, the true measure of a man is not in his fists, but in his heart.
Hubbard knew exactly what it meant to be a Marine. As he wrote in 1935: "Most of the fiction written about [Marines] is of an intensely dramatic type, all do-or-die and Semper Fidelis." But the reality, he said, was far different. "I've known the corps from Quantico to Peiping, from the South Pacific to the West Indies, and I've never seen any flag-waving. The most refreshing part of the U.S.M.C. is that they get their orders…and do the job and that's that." And it is that type of insight that he brings to his story "Trick Soldier."
Galaxy Press has, since its 2002 launch, republished over 60 titles in its 80-volume Stories from the Golden Age line—containing 153 stories written by Hubbard in a wide spectrum of genres, including adventure, western, mystery, detective, fantasy, science fiction and even some romance, using his own and 15 pen names—as trade paperback and eBook as well as full-cast unabridged audiobooks in CD and digital download formats, while continuing to publish its internationally acclaimed annual L. Ron Hubbard Presents Writers of the Future with volume 29 just released.
For more information, visit http://www.galaxypress.com.