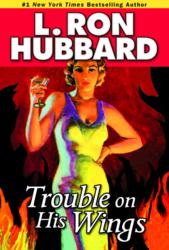 Hollywood, CA (PRWEB) January 14, 2013
As part of Publishers Weekly annual announcement of the best in audiobook production for 2012, a review of the year's choices was done. "With another year gone, we can look back at the amazing crop of audiobooks from 2012 and find a little something for everyone. Whether you're a fan of literary fiction or thrillers, celebrity memoirs or classic literature, history, theater, or romance, the audiobook industry had you covered," wrote Adam Boretz, Audio Review Editor for PW, in his announcement. "Of the hundreds of audiobooks PW reviewed last year, here are the very best."
He then went on to announce the year's very best and in the category of Full-Cast Production was listed "Trouble on His Wings" by L. Ron Hubbard.
Publishers Weekly wrote in its 2012 starred review of Trouble on His Wings, "Hubbard s pulp novel charts the adventures of hotheaded and heroic Johnny Brice; his dame, Jinx; and his buddy Irish. After Brice—on assignment covering a burning ship at sea for the newsreels— pulls Jinx out of the water, the trio begins gallivanting around the world (from Idaho to Asia) constantly getting in and out of trouble. Performed with great verve in the style of a classic radio play, this full cast recording incorporates realistic sound effects and mood music. While each cast member turns in a stellar performance—especially Jennifer Aspen as the troubled and spunky Jinx—the narration of R.F. Daley steals the show. He reads in a tone that is both excited and vaguely amused—a perfect combination given the pure pulpiness of Hubbard's text. Listeners in search of an audiobook that's both fun and fast-paced will be delighted. A Galaxy paperback."
Trouble on His Wings is one of 80 titles in the Stories from the Golden Age line containing 153 stories all written by Hubbard during the 1930s and 1940s—in genres ranging from Mystery to Thriller, Science Fiction and Fantasy to Adventure and Western, using his own and fifteen pen names—widely considered America's Golden Age of Fiction. The print version of each work includes the pulp fiction artwork that originally accompanied the story in magazine publication. In addition, each title offers a full-cast, unabridged audio theatrical presentation complete with theme music and sound effects. These titles are available wherever books are sold. For more information on the books and audiobooks go to http://www.goldenagestories.com.