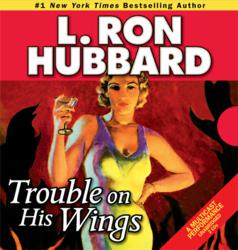 Hollywood, CA (PRWEB) February 21, 2013
In what amounts to another publishing milestone for Hollywood-based Galaxy Press, "Trouble on His Wings" by L. Ron Hubbard, one of 80 titles in its Stories from the Golden Age line of audiobooks, has been nominated for the highly-coveted 2012 Audies Award in the Audio Drama Category as announced by the Audio Publishers Association (APA) in the Audio Drama category, it was announced.
The audio version of L. Ron Hubbard's thrilling adventure story, Trouble on His Wings, was selected out of a field of over 1,200 entries from audio publishers to compete for the prizes given out May 30 at the Audies Awards Ceremony in New York, the only award program in the United States devoted entirely to honoring spoken word entertainment. The Association of American Publishers reports that the audiobook industry tops $200 million in the U.S. alone.
Trouble on His Wings (L. Ron Hubbard, Galaxy Audio) —a story that Booklist Magazine wrote, "This is one of Hubbard's more breathless, audacious adventure tales." While Library Journal announcing the title as one of the Best Audio Books of the Year claimed, "Saving the best for last, Trouble on His Wings finds ace newsreel cameraman Johnny Brice suddenly behind the eight ball after a mystery woman enters his life. His consistent good luck turns very bad whenever the girl—nicknamed Jinx—is around, but he kinda likes her anyway."It was nominated in the category of Audio Drama and was performed by Jennifer Aspen, Bob Caso, RF Daley, Jim Meskimen and Matt Scott.
Go to http://www.goldenagestories.com for more information about the line of audiobooks and a video presentation on how the Golden Age Stories audiobooks were created.