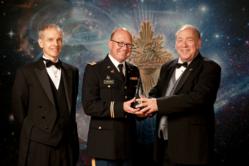 Hollywood, CA (PRWEB) October 11, 2012
Brad Torgersen will see his 16th publication and latest story, "The Exchange Officers," in the January/February 2013 edition of Analog Science Fiction & Fact magazine, and he's over the moon about it.
It all started when Brad was awarded the 3rd Quarter, 3rd place winner at the 26th Annual L. Ron Hubbard Achievement awards held in Hollywood, California in 2010 and he hasn't had time to look back. The event celebrated the annual winners in the L. Ron Hubbard Writers and Illustrators of the Future Contest, making it further than several thousand others who entered the international competition. Within a couple of months out-of-the-gate, Brad had his second story in print, "Outbound" to Analog Science Fiction and Fact magazine, which appeared in the November issue that same year. "Outbound" has since also been translated into Russian and published in ESLI magazine along with another of his short stories "The Chaplain's Assistant."
He has enjoyed a non-stop publishing stream, in Orson Scott Card's Intergalactic Medicine Show twice, and Analog five times so far.
In 2011 "Outbound" won the Analog "AnLab readers' choice award." He was then nominated for the Hugo and the Nebula awards for his story "Ray of Light." He was then nominated for the John W. Campbell award, which is an award for the best new writer in speculative fiction.
To be up for all three awards in the same year is an accomplishment that most professional writers do not see in their entire career.
The Contests were initiated by L. Ron Hubbard in 1983 shortly after returning to the field of science fiction with his bestseller Battlefield Earth.
For more information on the Writers and Illustrators of the Future contest, go to http://www.writersofthefuture.com.