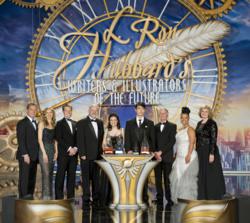 The future is in your minds and in your hands.
Hollywood, CA (PRWEB) April 15, 2013
Twenty-five writers and artists from around the globe were honored Sunday night, April 14, at the 29th Annual L. Ron Hubbard Achievement Awards at the prestigious Wilshire Ebell Theatre in Los Angeles, California. The two grand prize honors were captured by Tina Gower of Chino, CA who was awarded the The Golden Pen Award and a $5,000 cash prize and Aldo Katayanagi of Chicago, IL who was awarded the The Golden Brush Award and a $5,000 cash prize.
The 12 Writer winners included:

Alisa Alering (of Bloomington, IN)
Eric Cline (of Bowie, MD)
Tina Gower (writer's pen name; Tina Smith, real name) (of Chino, CA)
Marilyn Guttridge (of Estacada, OR) (She is the youngest writer winner in the history of the writer's contest. She is currently 17-years-old.)
Kodiak Julian (writer's pen name; Leah Hieber, real name) (of Yakima, WA)
Marina J. Lostetter (of Fayetteville, AZ)
Shannon Peavey (of Kirkland, WA)
Christopher Reynaga (of Moss Beach, CA)
Stephen Sottong (of Eureka, CA)
Andrea Stewart (of West Sacramento, CA)
Brian Trent (of Prospect, CT)
Alex Wilson (of Carrboro, N.C.)
In addition, writer Chrome Oxide, (writer's pen name; Steven Libis, real name) (of Mission Hills, CA) was honored as a published finalist.
The 12 Illustrator winners included:

Jackie Albano (of Miramar, FL)
Sida Chen (of Syosset, NY; born in rural China)
Lucas Durham (of Darien, IL)
James J. Eads (of Garden Grove, CA)
Tiffany England (of Los Angeles, CA)
Jon Eno (of Bluff Dale, TX)
Aldo Katayanagi (of Chicago, IL)
Joshua Meehan (of Tucson, AZ)
Luis Menacho (of Jackson Heights, NY)
Daniel Reneau (of Denver, CO)
Karsen Slater (of Glendora, CA)
Olivia Xu (of Brooklyn, NY and Nanjing, China)
The annual event celebrated the winners in the L. Ron Hubbard Writers and Illustrators of the Future Contests before a packed hall of over 1,100 guests and thousands more who were logged on to watch the event as it streamed live. A unique characteristic of the Hubbard Achievement Awards event is its use of music and dance to both complement and celebrate writing and art. The evening's event opened with a beautiful original song dedicated to writers and artists entitled "Endless Possibilities," performed by Kimberley Locke, of American Idol fame, with choreography as performed by the troupe DanceMakers. The night's keynote speaker was Mr. Brett Kennedy, Supervisor of the Robotic Vehicles and Manipulators Group at NASA's Jet Propulsion Laboratory in Pasadena who spoke on the bleeding edge of mobile robotic applications, having worked the past 15 years at JPL on diverse systems, the most immediate being the Robotic Arm aboard the Mars Curiosity Rover. He addressed writers and artists of the past who provided the inspiration for scientists such as him, and quoted L. Ron Hubbard from the opening line of his gritty space travel story written in the nascent days of science fiction, "Space is deep, Man is small, and Time is his relentless enemy." He concluded his speech by asking the evening's winners, "So, tell us, writers and artists of the future—what are we going to do next? What will motivate our Will and our Urgency? Is it something further, different, or more? And how will finding it show us ourselves? The future is in your minds and in your hands." In addition, Kennedy brought an inflatable replica from NASA of the Curiosity Rover currently on the planet Mars along with an 8-wheeled "Mobility Test Rover" which were situated on a Mars landscape created for the evening's after event. It was also the Mini Curiosity Rover that presented the Grand Prize envelope on stage for the Writer of the Future for Tina Gower.
The other evening guest speaker was Jut Wynne, PhD, a conservation biologist who has bushwhacked through the jungles of Belize, rappelled into the deepest volcanic pit in Hawaii, endured the world's driest desert in northern Chile, searched for caves with cutting edge instruments aboard NASA aircraft, and traveled to the most remote inhabited place on earth, Easter Island.
Celebrity presenters included:

Nancy Cartwright (Emmy Award® Winner, The Voice of Bart Simpson on "The Simpsons" and Charles "Chuckie" Finster, Jr. on "Rugrats")
Aramis Knight (Bean in the Science Fiction movie, "Ender's Game," "The Dark Knight Rises," "Crossing Over")
Marisol Nichols ("Vegas Vacation," "Scream 2," "GCB," "The Gates," "24")
Kylin Rhambo (Dink Meeker in the Science Fiction movie, "Ender's Game," "The First Family")
The event celebrated the annual winners in the L. Ron Hubbard Writers and Illustrators of the Future Contests, where twelve writer and twelve illustrator winners, and one writer finalist—who made it further than some several thousand others who entered the international competition—saw their story and artwork published in the bestselling Science Fiction anthology series – L. Ron Hubbard Presents Writers of the Future Volume XXIX, now available online at Amazon.com and BN.com and soon to be available in print wherever books are sold.
With writers and illustrators coming from all walks of life, the winners attended a week long workshop taught by contest judges —including New York Times bestselling authors Dave Wolverton (Runelord series) and Kevin J. Anderson (Dune series), World Fantasy Award winner Tim Powers (On Stranger Tides, adapted as the 4th Pirates of the Caribbean film), multiple Hugo and Nebula award winner Robert J. Sawyer (Flash Forward and The WWW Trilogy), Hugo and Nebula award winning author Larry Niven (the Ringworld series), and internationally acclaimed artists, Stephen Hickman (over 350 book and magazine covers), and Cliff Nielsen (cover artist for Chronicles of Narnia)—each one an experienced professional in the field providing sound advice based on hard-won experience.
Two new contest judges were welcomed aboard, Nnedi Okorafor as a writer judge. She was a Published Finalist in the Contest and has won dozens of honors including the World Fantasy Award, Wole Soyinka Prize for Literature in Africa and the Carl Brandon Parallax Award. And Larry Elmore, well known as a fantasy artist for "Dungeons & Dragons." He worked on "Dragonlance" amongst dozens of magazines and book covers.
Each writing and illustrating contest winner was presented their trophy by contest judges at the ceremony and combined cash prizes and royalties of over $30,000, and their story with artwork published in the L. Ron Hubbard Writers of the Future Volume XXIX.
The Writers of the Future writing contest (http://www.writersofthefuture.com) was initiated by L. Ron Hubbard in 1983 to provide a means for aspiring writers to get that much-needed break. Due to the success of the Writing Contest, the companion Illustrators of the Future Contest was created in 1988.
The intensive mentoring process has proven very successful. The 348 past winners of the Writing Contest have published 838 novels and nearly 4,000 short stories. They have produced 27 New York Times bestsellers and their works have sold over 50 million copies.
The 276 past winners of the Illustrating Contest have produced over 4,500 illustrations, 356 comic books, graced 594 books and albums with their art and visually contributed to 36 TV shows and 46 major movies.
For more information and to see the awards ceremony online, go to http://www.writersofthefuture.com
For more information contact:
Steve Moyer, 818-784-7027
John Goodwin, 323-377-7461