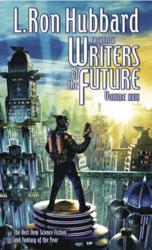 It was one of our more sensational eras of design that lives on today.
Hollywood, CA (PRWEB) May 08, 2013
Stephen Youll is arguably one of today's top science fiction and fantasy artists. His career began in England, working with his brother Paul. He then came to the United States in 1989 where he has continued producing some of the most beautiful cover art for the genre. Stephen has been a judge for the Illustrators of the Future Contest for the past 8 years and provided cover art for the last two editions of L. Ron Hubbard Presents Writers of the Future. His recent cover art for L. Ron Hubbard Presents Writers of the Future Volume 29 was officially released at the gala awards ceremony held recently at the renowned Wilshire Ebell Theatre. (http://www.writersofthefuture.com)
The cover is an Art Deco styled painting entitled "Retro City." Art Deco is a style of design that originated in the 1920's to 1940's – around the time between the First and the Second World Wars. When asked how he established the look of the painting, Youll commented, "I thought about a war time comic book hero that came out of the Art Deco era. "Rocket Man" seemed the perfect choice. So I set out to create my version of a Rocket Man Hero character that was overlooking the city.
Youll had many references regarding the city buildings. Living very close to New York he had some of the most spectacular Art Deco buildings to draw inspiration from. The Chrysler building with its wing ornamentation and rocket ship look, proved to more than enough inspiration to start designing his own Deco style buildings. "One of the things I love to do while designing something is to take something familiar and use it as part of a design that creates something new from its original use," stated Youll. In this case, he was referring to his search for references of something from the deco era that wasn't a building at all, to use as inspiration for some of the buildings that would look like it fit in this sci fi fantasy Deco universe. "I love old steam trains of that era, which have a great retro style to them," he continued. "So I used a shot of the old PRR S1 steam locomotive, one of my favorite trains ever designed as part of some of the front buildings. Anyone who is a train enthusiast might spot it."
To then take Art Deco and make it into science fiction/fantasy, Youll explained, "I added quite a bit of neon tube lighting as part of the building's design. As for the Rocket Man figure, I used references from early pilot helmets as a start for his helmet and added the aerodynamic wing to give it that deco retro look. His jet pack was also referenced from the earliest jet engines of World War 2 as a base for the design."
"This was one of those covers that demanded a lot of research and references of actual buildings and designs to get that deco feel across," Youll concluded. "It was one of our more sensational eras of design that lives on today. It was a wonderful chance to revisit it for the theme of the new cover 'Retro City.'"
The Writers of the Future writing contest (http://www.writersofthefuture.com) was initiated by L. Ron Hubbard in 1983 to provide a means for aspiring writers to get that much-needed break. Due to the success of the Writing Contest, the companion Illustrators of the Future Contest was created in 1988.
The intensive mentoring process has proven very successful. The 348 past winners of the Writing Contest have published 838 novels and nearly 4,000 short stories. They have produced 27 New York Times bestsellers and their works have sold over 50 million copies.
The 276 past winners of the Illustrating Contest have produced over 4,500 illustrations, 356 comic books, graced 594 books and albums with their art and visually contributed to 36 TV shows and 46 major movies.
For more information and to see the awards ceremony online, go to http://www.writersofthefuture.com