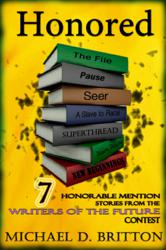 Hollywood, CA (PRWEB) June 05, 2013
Stories from around the globe arrive at the L. Ron Hubbard Writers of the Future contest and every quarter there are winners, finalists, semi-finalists and Honorable Mentions. Michael Britton has earned seven Honorable Mentions since he started entering back in 2007. What sets Michael apart from everyone else is that he has now published these seven stories in his own book entitled "Honored." Michael has independently published this book and continues to write and publish.
As Michael describes it, "In March 2007 I entered my first submission for the Writers of the Future contest. I heard about the contest through my new circle of writing acquaintances - they all said it's a great way to break into the business. That story, 'Project Dreamer,' was the first of 17 consecutive quarters that I entered the contest. Later that same year, I earned my first two Honorable Mentions. Over the subsequent five years, I earned 5 more Honorable Mentions. By April 2011 I had entered the new world of independent publishing, putting many of my short stories and novels on the market as my own publisher. Besides short stories in science fiction and fantasy, I also have a handful of mysteries, a paranormal romance or two and several thrillers, but my heart is always in sci-fi. So, to offer some of my best all in one book, I decided to put together a collection of those seven stories that earned Honorable Mentions - and that collection became 'Honored'. These seven stories obviously represent some of my most well-received work, and I am pleased with how the anthology turned out. I hope readers will enjoy it."
One of the most known and respected vehicles for supporting new and fledgling authors is this world-acclaimed, free-to-enter global contest called L. Ron Hubbard's Writers of the Future, now in its 30th year. Created by international best-selling author L. Ron Hubbard, the merit-based Writers of the Future Contest was initiated to discover and encourage talented beginning writers of science fiction and fantasy. Quarterly winners of the Contest appear in the best-selling annual anthology, receive cash prizes, and attend an all-expenses paid gala awards ceremony and writing workshop. Michael is still vying for that opportunity.
If you've ever thought of becoming an author, no matter where you live, you have a golden opportunity to make it happen.
To learn more, including details on how to enter the contests, visit the website at http://www.writersofthefuture.com