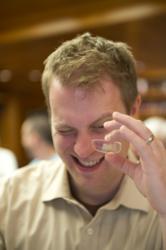 I'm not at all surprised that Jacob sold it. He is an excellent writer and I wish him every success.
(PRWEB) June 13, 2013
Jacob A. Boyd of Eugene, Oregon, was one of twelve winners in last year's L. Ron Hubbard Writers of the Future contest and just sold his story, "Just As Good," to Interzone for publication in July of this year. What makes the story so special to him is that he wrote it in 24 hours, during the workshop awarded to him as one of the prizes when you win the contest.
The contest, now in it's 30th year, created by best-selling author L. Ron Hubbard, is a merit-based competition initiated to discover and encourage talented beginning writers of science fiction and fantasy and help launch their careers. Winners are treated to not only publication of their work in the annual L. Ron Hubbard Presents Writers of the Future, but are also given a week-long workshop and a gala awards ceremony. As one of several exercises in the workshop, and based on L. Ron Hubbard's famous article, Magic Out of a Hat, winners are shown that you can get ideas from anywhere, and you don't have to ponder on a story for months. Here is how it plays out: the contest coordinating judge hands each winner a unique object. Jacob was handed a single bifocal lens. Along with his fellow winners, he was sent out on the street to meet a stranger and then to the local library for research. These elements are then used to write a story, incorporating these three elements. They have 24 hours to write the story and turn it in.
Jacob gave a synopsis of his story. "After Tara's parents divorce, her family is visited by the Exchange, a curious, inhuman creature that steals from them only to replace what it has taken with what it has taken from others. They soon discover they aren't the only family involved; the Exchange's reach is far wider and far more intrusive than they had imagined. Benevolent, malevolent, or just plain ignorant, the Exchange enlists Tara in its enigmatic campaign while she struggles to preserve her family, herself, and the memories and mementos that tie them together."
"I'm not at all surprised that Jacob sold it," contest Director Joni Labaqui said when she heard the news. "He is an excellent writer and I wish him every success."
The contest has launched the careers of twelve New York Times bestselling authors in it's 30 year history and is constantly promoting their winners, of which there are over 300 now.
To learn more, including details on how to enter the contest, visit the website at http://www.writersofthefuture.com