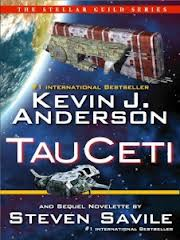 (PRWEB) June 20, 2013
The 2013 Lifeboat to the Stars Award was presented to Kevin J. Anderson and Steven Savile for their collaboration on the science fiction book, Tau Ceit, which is an original novella by Anderson and a sequel novelette by Savile under the same cover. The award was presented by Professor James Gunn at the annual Campbell Conference in Lawrence Kansas last week.
Anderson, a judge in the L. Ron Hubbard Writers of the Future contest for the past two decades, and Savile met when Steven himself was a contest winner at the 2003 awards ceremony in Beverly Hills. Savile has gone on to have successful career since winning the contest. Anderson was interested in working with Savile. Their collaboration has certainly proven likewise to be successful.
The Campbell Conference is also the sponsor of the John W. Campbell awards for best new writer that annually announces the best new science fiction author of the year. Two winners of the Writers of the Future contest have gone on to win the Campbell award, Karen Joy Fowler in 1987 and Jay Lake in 2004. Eight other contest winners have been nominated throughout the years.
As it is free-to-enter, L. Ron Hubbard's Writers of the Future, now in its 30th year enjoys amazing success with thousands of entrants yearly, from all parts of the world. Created by best-selling author L. Ron Hubbard, the contest has to date launched the careers of 12 New York Times bestselling authors.
To learn more, including details on how to enter the contests, visit the website at http://www.writersofthefuture.com