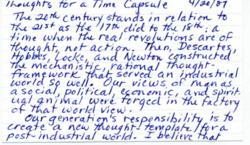 We will create the metaphor; the next generation must take care of the revolution.
Hollywood, CA (PRWEB) July 26, 2012
Twenty-five years ago, Carolyn Ives Gilman, was making her debut into the world of science fiction as a winner of the L. Ron Hubbard Writers of the Future Contest being presented her award in a ceremony held atop the World Trade Center in April 1987. She also placed her prediction of what life would be like in the year 2012 and was one of several acclaimed science fiction writers and scientists whose forecasts were revealed when that time capsule, sealed 25 years ago, was opened.
Gilman has since gone on to her own successful career as a published author, including her first novel, "Halfway Human" being hailed by Locus Magazine as "one of the most compelling explorations of gender and power in recent SF." Her works have been translated into Russian, Swedish, Czech, Polish and Romanian. In her professional career, Gilman is a historian specializing in 18th and early 19th-century North American history, particularly frontier and Native history.
In her prediction for 2012, Gilman wrote, "The 20th century stands in relation to the 21st as the 17th did to the 18th: a time when the real revolutions are of thought, no action. Then, Descartes, Hobbes, Locke, and Newton constructed the mechanistic, rational thought-framework that served an industrial world so well. Our views of man as a social, political, economic, and spiritual animal were forged in the factory of that world view.
"Our generation's responsibility is to create a new thought-template for a post-industrial world. I believe that template will be organic where the old one was mechanical; holistic where the old analytical; consonant with spirituality; decentralized; non-hierarchical; ecologically viable.
"We will create the metaphor; the next generation must take care of the revolution."
For more information on the Writers of the Future and to see other revealed predictions from the time capsule, go to http://www.writersofthefuture.com.
About The Writers of the Future
The Writers of the Future writing contest was initiated by L. Ron Hubbard in 1983 to provide a means for aspiring writers to get that much-needed break. Due to the success of the Writing Contest, the companion Illustrators of the Future Contest was created in 1988.
The intensive mentoring process has proven very successful. Past winners of the Writing Contest have published over 750 novels, 3,500 short stories and winners of the Illustrating Contest have had their art published in more than 500 books and magazines, with 4,500 illustrations, 350 comics and over 1.3 million art prints.