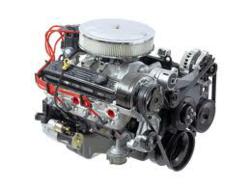 The LS1CrateEngine.com company exclusively provides GM motors sold at below MSRP cost online.
San Francisco, California (PRWEB) February 03, 2013
Auto body shops and mechanics working independently can have limited resources to purchase complete engines without dealership connections. The high markup that some distributors add to the cost of a motor is one drawback of owning a small auto body repair business. The LS1CrateEngine.com company is now selling the LS1 engine to mechanics and other buyers searching for easy to install engines. The offering of this inventory is also paired with reduced pricing. More information can be obtained by visiting http://www.ls1crateengine.com/engines.
General Motors created the LS1 series in 1997 for use primarily in its Corvette brand sold through its Chevrolet division. The added horsepower that this series used has helped to make it popular with owners of vehicles apart from a Corvette, Camaro or Firebird.
Because these units are easier to install, average car restoration enthusiasts and car builders can purchase the LS base and complete installations in a faster period of time. The offering of these motors online to mechanics and other buyers is helping to provide more resources for purchase.
The issuance of crate engines by the General Motors company has made it possible for more vehicle owners to select different engine types for replacement. Aside from Ford Motor Company, few automakers release performance motors that can be purchased on the secondary market. The majority of automakers license the manufacturing of aftermarket parts and complete engines are usually excluded from this licensing due to protection of company patents. The LS1CrateEngine.com company exclusively provides GM motors sold at below MSRP cost online.
The new inventory that is shipped to customers is packaged with a warranty for no additional charge. Because these are new builds, the OEM parts and protection that is usually provided with a new motor is included in these editions. One way that this company is helping to expand the protection now offered is by lifting the mileage restriction that is common in the auto industry. This elimination of the mileage clause in the warranty program now offers a 3-year period of time for the complete warranty package.
About LS1 Crate Engine Co.
The LS1 Crate Engine Co. is one of the largest providers of General Motors based performance engines currently selling online. The company inventory is stocked on a regular basis with Chevrolet, Pontiac, Oldsmobile and other automaker editions like Ford and Dodge. The retail pricing is reduced for all sales that are made offline and online to help buyers locate a discount source for replacement units. The LS1 Crate Engine Co. offers warranties with all stock that is shipped and staffs each company department with automotive experts. These efforts are designed to contribute to the annual sales increases reported each year.