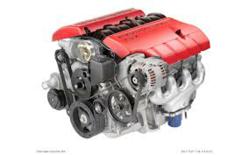 These price figures can be viewed easily and calling the toll-free company number remains an offline option for buyers.
Cleveland, Ohio (PRWEB) May 05, 2013
The LS series motors that are produced by General Motors are part of the performance engine series. These motors have been used to power vehicles like the Corvette to help brand the engine development around the world. The AutoProsUSA.com company is a leading seller of engines online and has now added the LS7 edition motor for sale. This engine type can be purchased immediately from the company website and pricing can be compared online at http://autoprosusa.com/used-chevrolet-ls7-engines-for-sale.
The LS engine types that have been produced by GM over the past 25 years have gained the respect of vehicle owners worldwide. The horsepower, fuel efficiency and reliability of these motors has helped to increase sales of GM vehicles. The replacement engines industry often helps buyers to locate an engine for a reduced price compared with a dealership edition.
Due to a lack of LS engine dealers, some buyers can be disadvantaged when trying to locate a GM performance motor on the Internet. The new addition of the LS7 engines online is expected to create a better resource for General Motors engine buyers.
The AutoProsUSA.com company has added to its inventory of motors for sale this year. Several GM additions have been announced to help create a larger engine inventory for buyers to browse in North America. Ford Motor Company editions were recently added to help provide hard to locate Triton engines, Duratec and other engine types that are commonly requested for Ford engine replacements. These inventory updates are expected to continue until the end of this year to ensure that all buyers can take advantage of the company stock.
The online quotation system now in place is able to expand the pricing distribution to all users on the company website. This new way to lookup current company pricing is providing faster methods of price retrieval online. The parts year and make can be entered into the company pricing tool and a series of price quotes can now be reviewed. These quotes include the company low pricing as well as similar pricing from other retailers. These price figures can be viewed easily and calling the toll-free company number remains an offline option for buyers.
About AutoProsUSA.com
The AutoProsUSA.com company sells its complete parts inventory to buyers at a lower than standard retail price. This company extends its low price structure to trade industry buyers and owners of vehicles to provide easier methods of obtaining auto parts. The warranties that are extended by this company help provide the additional buyer assurance that is often hard to find when purchasing parts on the secondary market. The AutoProsUSA.com company updates its company database with foreign and domestic parts to help produce one of the largest inventories that can be researched online from a secondary market seller.