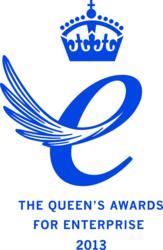 London (PRWEB UK) 22 April 2013
As the UK's highest and most prestigious business accolade, the Awards are conferred by HM Queen Elizabeth II, on the advice of the Prime Minister, to organisations with outstanding performance in international trade, innovation and sustainable development.
With campuses, offices and an online presence worldwide, LSBF is proud of the role it plays in expanding access to global education and contributing to the continuous development of individuals and communities. The school is now one of the very few private higher education institutions to have won the award.
Commenting on the accolade, Professor Maurits van Rooijen, Rector & CEO of LSBF, said: "We are extremely proud to be presented with such a prestigious honour as the Queen's Awards. At LSBF, we believe that higher education should take the front seat in the globalisation process and lead a positive and constructive form of international collaboration. Winning the award gives us the confidence we need to continue to work hard to improve both our corporate and academic operations worldwide."
Having showed exponential growth and a truly global mindset over the years, LSBF not only teaches students to run successful businesses, but the school itself operates as a successful international business organisation.
"For many countries across the globe, British education is highly valued; therefore making British standard business and financial education available locally is something invaluable to learners", added Prof van Rooijen.
International Development
LSBF fully understands the importance of implementing both short and long-term strategies for international development. The school believes that using education as a tool to help individuals to achieve their professional goals is the best way to make a positive impact on society.
The global mindset adopted by LSBF is reflected on the school's business operations as well as on the high levels of diversity and multiculturalism present at its classrooms. Across UK and overseas campuses and via a wide range of online education channels, LSBF teaches career-focused programmes to more than 25,000 students from over 150 nations.
With a diverse and inclusive approach to social responsibility, it is part of the LSBF's mission to help build skills not just for the benefit of individuals, but also for the communities where students, alumni and business partners live and work.
Prof van Rooijen concluded: "Our courses actively teach values that are vital for fostering a socially conscious business community. Many of our students come from developing countries, and are able to make real contributions to their local economies after returning home with international experience. At LSBF, we like to believe that we shape not only the careers of global professionals, but we also help our students to become truly global citizens."
About LSBF

Under the Royal patronage of Prince Michael of Kent, LSBF is a fast-growing, global institution delivering undergraduate, postgraduate, vocational and professional programmes to students and executives worldwide.
With over 25,000 students, LSBF attracts the most talented and ambitious candidates from more than 150 nations, working alongside its corporate partners to develop programmes structured with an up-to-date and international perspective.
Being the first business school to combine key professional and academic qualifications into a single, bespoke programme, LSBF has seen great expansion and development over the last 10 years, opening additional campuses in the UK, Singapore and Canada, and regional offices in over 10 cities around the world. With a presence that spans across the globe, LSBF truly is the world's business school.