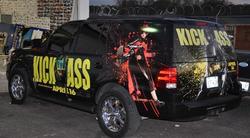 Thousands of elected officials, members of the press, Capitol Hill staff, and vendors will be identified through LSI's Badge Management System.
Memphis, TN (PRWEB) April 16, 2010
Memphis-based Lamination Service, Inc. (LSI) has experienced rapid growth, despite the tough economy. The company's two distinct product divisions, Wide Format Digital Printing and ID Badge Systems, each have reasons to celebrate.
LSI was recently recognized as a certified 3M™ graphics manufacturer, which means that all their 3M products are eligible for the 3M MCS™ Warranty. Qualification for this program requires rigorous quality control and strict adherence to 3M's material, equipment and process guidelines.
This certification comes on the heels of LSI's move to new headquarters. The Brother Boulevard facility is geared toward the production of wide format digital prints, including billboards, point of sale displays, trade show exhibits, and banners. The new space is especially well suited for LSI's booming vehicle graphics business. LSI has been contracted to wrap 53 18-wheelers for the National Guard, in addition to 5 SUV wraps and 50 rear taxi windows promoting the upcoming movie, Kick-Ass.
In the ID Badge division, LSI recently landed a $1.5 million contract with an undisclosed department of the Federal Government to implement its innovative Badge Management System (BMS). This all-in-one software suite allows users to efficiently collect security clearances, fingerprints, photos and other pertinent identifying data; then issue associated ID badges for use in controlled-access areas.
Eventually, thousands of elected officials, members of the press, Capitol Hill staff, and vendors will be identified through the BMS. LSI has previously implemented Badge Management Systems for Lockheed Martin, Auburn University, the U.S. Army in Korea, and FBI locations in Quantico, VA, and Redstone Arsenal, AL.
LSI's ID Badge division is also partnering with Test Express, Inc., a Memphis-based drug testing company, to develop a paperless drug test intended for use by construction companies. The test will not be certified by the Department of Transportation, due to the agency's requirement that paper files be kept for years. However, LSI's paperless test would meet the needs of many industries that don't require the same hard copy documentation.
The paperless system allows faster processing of test results, dramatically cutting turnaround time while maintaining accuracy. It enables testers to scan an employee ID card and drug test cup prior to the test, and then again after the test to make sure the sample was not switched. The results are then digitally entered and e-mailed to the recipient. The whole process takes minutes, whereas traditional testing systems can take days.
LSI was established in 1975. This service disabled veteran owned, family business provides ID badge software, printers, supplies, and repair services, as well as large format digital printing.
# # #