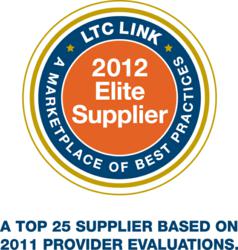 Charlottesville, VA (PRWEB) May 02, 2012
Silverchair Learning Systems is proud to announce that it has earned an 'Elite Supplier' distinction for the 8th Annual LTC LINK Meetings. This award is given to the suppliers that participated in LINK 2011 and ranked in the top 25% of suppliers based on provider scores for their ability to be consultative, innovative, and address providers' specific needs.
"This seal identifies Silverchair Learning Systems as a progressive thought leader in long term care and senior living, and as an organization that understands how to build partnerships with clients," said Bailey Beeken, LINK Conference Director and Vice President for Lincoln Healthcare Events.
LTC LINK brings top executives from large long term care and senior living provider organizations together with executives from leading suppliers for peer-to-peer education, networking and consultative meetings centered on generating actionable business improvement ideas. LINK suppliers represent over 35 product/service categories, with participation from innovative industry leaders and emerging companies.
"Silverchair Learning greatly appreciates this consecutive recognition from fellow LINK attendees," says Mike Mutka, President and COO of Silverchair Learning Systems. "As an annual sponsor of several Lincoln Healthcare events—including LINK Meetings—we have enjoyed meeting the many attendees who have become great clients and friends. We look forward to this year's events and the opportunities for education and communication."
The LINK program offers educational sessions, including case studies from the LINK Spirit of Innovation Award winners, roundtable discussions and innovation focus groups.
LINK is exclusively for top level long term care and senior living provider executive teams from organizations with revenue over $30 million.
Space is limited to 90 provider companies. There is no fee to participate for providers. A complimentary meeting suite and accommodations for up to three executives are included with attendance. For sign up information, please visit http://www.ltclinkconference.com or contact Cynthia Montano at (203) 644-1723.
About Silverchair Learning Systems
Silverchair Learning Systems works with senior care leaders who want to improve the training process in their organizations. Silverchair offers a user-friendly online training solution that improves compliance and eliminates record keeping headaches, while saving time and money. We make online training successful with easy set-up, ease of use, simple tracking, and educationally-rich yet fun courses. Using this system provides peace of mind and confidence. http://www.silverchairlearning.com
About Lincoln Healthcare Events:
Lincoln Healthcare Events offers C-level leadership, networking and education programs for the healthcare industry. The company strives to positively impact the quality and effectiveness of the U.S. healthcare system by helping to educate and share best practices among its business leaders.