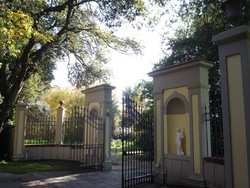 Lucca is a wonderful town, never seen something similar! We didn't expect such a beautiful place: we had the occasion to relax and visit the nice villas in the countryside.
Center City, MN (PRWEB) March 1, 2010
On the outskirts of Lucca, nestled in the midst of a wide park that ensure the necessary tranquillity and silence for a relaxing break in the heart of Tuscany's countryside, the new Lucca Hotel Hambros Il Parco has now transformed its classic rooms in a set of brand new suites with modern, slick design and technological comforts.
SURROUNDED BY A MONUMENTAL PARK - The hotel is surrounded by medieval stone walls and original gates; from the entrance avenue, outlined by rows of ancient 300-year-old redwoods, Mediterranean pines and palms, Hotel Hambros conveys a unique atmosphere of relaxation and peacefulness.
MODERN STYLE ROOMS IN A 16th CENTURY VILLA - To appreciate the beauty of the villa, guests have to drive a 300-feet-long avenue. Crossing a wide gate, the visitor is greeted by the scent of lime trees and the lush, relaxing green of the secular park surrounding the old structure.
The hotel, although completely renovated with the latest technology and most modern facilities including a fully equipped Business Center, has maintained the flavor of the old historic residence with the charm that recalls the splendor of the early 1400.
For further information visit the official website of Lucca Hotel Hambros il Parco - http://www.hotelhambros.com
Hotel Hambros il Parco
Via Pesciatina in Lunata 197
55012 Lucca, Italy
Phone: 0583-935-355
Email: info(at)hotelhambros(dot)com
###