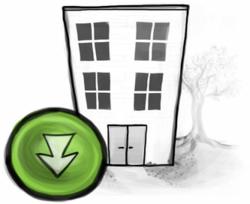 35 percent of electricity is used in commercial buildings, so the Green Button is a critical tool for helping reduce our nation's energy consumption
Oakland, Calif. (PRWEB) March 22, 2012
Lucid, the pioneer provider of real-time energy information systems for commercial buildings, announced that it will support "Green Button" data from utilities – energy usage data provided in a standardized, electronic format. Green Button support means that Lucid's flagship product for tracking energy consumption on the Web, Building Dashboard®, can be delivered at less cost and at a broader scale for commercial buildings across North America.
The nation's largest utilities such as Pacific Gas and Electric Company (PG&E), Southern California Edison (SCE), San Diego Gas & Electric (SDG&E), Pepco Holdings Inc., and others announced their support for the Green Button last fall after the White House challenged utilities to empower their consumers with their own energy data, in a consumer-friendly and computer-friendly format. The Green Button provides energy data in a format known as the Energy Services Provider Interface (ESPI), a standard finalized last year by the North American Energy Standards Board.
"Before the Green Button, businesses investing in energy efficiency had to buy their consumption data twice – first from their utility, and again with monitoring hardware at their own expense. This diverts resources from the real activities that save energy and reduce costs. For those customers with the Green Button, many efficiency services can be provided electronically at the push of a button," said Lucid's CEO, Michael Murray.
"In commercial buildings, the opportunities for American businesses and institutions to reduce costs and increase efficiency are great. 35 percent of electricity is used in commercial buildings, so the Green Button is a critical tool for helping reduce our nation's energy consumption," said Murray.
As Department of Energy Secretary Steven Chu has said, "Providing consumers with easy access to data on their energy consumption can help give them the tools they need to make informed decisions about their energy use. Developing applications and services to help consumers understand and control their energy use is a field ripe for American innovation."
Lucid is currently monitoring energy and water use in thousands of commercial buildings across North America. Building Dashboard® allows customers to view, compare and share their building consumption information in real time on the Web. With increased visibility and transparency building occupants and managers are able to change their behaviors to reduce energy use, saving money and resources.
For more information on the Green Button see the post on the White House Office of Science and Technology Policy blog.
Read more about Lucid's support of the Green Button on the Lucid blog.
About Lucid
Founded in 2004, Lucid is a privately held cleantech software company and a pioneer in providing real-time information feedback to teach, inspire behavior change, and save energy and water resources in buildings. Over the past eight years, Lucid's team has made resource use visible, accessible, and engaging so that building occupants have the data visualization and communication tools to manage and reduce their consumption. Today, hundreds of thousands of people live and work in schools, companies, and organizations enhanced by Lucid's award-winning Building Dashboard® technology. Visit http://www.luciddesigngroup.com, or follow on Twitter (@luciddg), Facebook (facebook.com/luciddesigngroup), and LinkedIn.