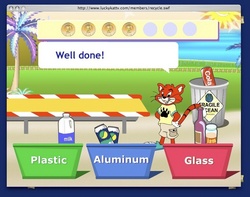 Global Educational Ambassador for Children
LOS ANGELES (PRWEB) March 27, 2008
-- Six Sigma Creator, Dr. Mikel Harry
-- Education World - An indispensable online resource for K-12 education
-- Delfino Entertainment, the Emmy Award-winning media company
-- Jim Fannin - America's "Zone Coach"
-- Slangman - Learn foreign languages through fairy tales
The collaboration of these talents has resulted in a superior online TV Network that features educational games for kids that blend entertaining animated characters, inspiring music, environmental responsibility and groundbreaking child education programs teaching self-esteem, self-discipline and positive personal values. Dr. Harry, the creator of Six Sigma, is internationally renowned for his ability to increase a company's production by looking at everyday activities from new perspectives. That successful methodology is now being transferred from the corporate board room to the family kitchen table with Six Sigma for Kids. This exclusive program develops extraordinary from the ordinary and will enhance child education and family harmony.
Education World is the educator's best friend, with hundreds of thousands of teachers visiting regularly for assistance with lesson planning and creative teaching techniques. Recognized as experts in child education, Education World ensures high standards of learning around the entire Lucky Kat world.
With an Emmy Award-winning staff, Delfino Entertainment brings Lucky Kat to life, creating a tropical paradise in the form of Lucky Kat Island. Their cutting-edge programming and artistry has led to a playful environment that includes the unique "click and narrate" mechanism allowing non-readers to participate throughout the Lucky Kat TV Network.
For over 300 years, people around the world have opened their arms, homes and businesses to Japan's most recognized icon Maneki Neko, who is universally known as the lucky cat that brings good fortune and prosperity. Creating a modern day character "Lucky Kat(TM)," as the chosen descendant of the prominent Maneki Neko, to assist in spreading good fortune and prosperity to our present world, is a brilliant concept. The cool and lovable Lucky Kat and his six engaging comrades, who all make up the Kat Patrol, will all be immediately embraced by children like never before. Lucky Kat has been proclaimed as the "Global Educational Ambassador for Children" and LuckyKatTV.com is the home where Lucky Kat will teach children to BELIEVE in themselves in a positive environment and empower them to become better human beings.