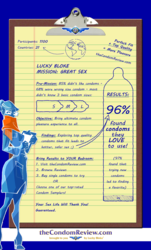 Before our condom review 85% of couples disliked condoms. After, the situation reversed to 96% of reviewers finding a favorite condom. We've proven that proper fit + premium condoms leads to a more pleasurable experience. All condom users deserve that.
Ashland, OR (PRWEB) December 12, 2012
Having completing Lucky Bloke's (Mission: Great Sex!) Global Condom Review, 96% of participants (1100 reviewers in 21 countries) stated they greatly improved their relationship to condoms. Now, together with Lucky Bloke, they're sharing their knowledge for the benefit of all condom users worldwide.
Launching today, theCondomReview.com is the first site ever of its kind - a Condom Review driven e-Commerce site offering candid, independent consumer reviews of over 70 top international condom styles. Each condom features a concise product description and "pro tips" for condom use. Drawing on thousands of the study's participant responses, the condom reviews featured comprise an unparalleled, definitive consumer resource.
Addressing the fear of "buyer's remorse" which Lucky Bloke found attributes to customers sticking with lackluster condoms, theCondomReview.com makes it easy to try out new condoms by offering "single" condoms for purchase. Instead of having to buy an entire box to try out new condom styles, shoppers may buy any combination of condom "singles" to sample and explore minimizing financial outlay.
Speaking of sampling: TheCondomReview.com also offers 10 condom samplers for almost any condom category imaginable. Each condom sampler is comprised exclusively of the top rated picks in its category (e.g. textured condoms, ultrathin condoms, pleasure shaped condoms, flavored condoms, etc.) Condom samplers also are available based on size range featuring small or snugfit condoms, medium or standard condoms, and large or generous fit condom assortments.
The site launch comes on the heels of Lucky Bloke's international condom study, which revealed that 85% of condom users disliked the condoms they'd previously used, and that at least 68% of men were actually wearing the wrong size condom, thus compromising both pleasure and safety for themselves, as well as their partners.
Of the 1100 participants surveyed, a vast majority of condom users:

did not know that there are 3 basic condom sizes;
did not know that there is a quality difference in condoms (premium vs. "economy");
did not realize the many options available to them beyond what was sold at their local store;
let fear of "buyer's remorse" keep them from buying a box of premium condoms; and,
did not put much thought into condom purchases, in general.
After multiple, comprehensive intake questionnaires, the 1100 reviewers received carefully selected premium condom assortments that matched their size requirements and personal preferences. The assortments featured leading international premium condom brands such as: Billy Boy, GLYDE, Kimono, Crown, RFSU, Beyond Seven, ONE, and Okamoto condoms. As a result of the study, 97% of all participants stated they were introduced to brands they'd never heard of – which led them to finding their (often, first ever!) favorite condom.
Additional findings:
The 68% that had been using the wrong size condom - found that by using the correct size they dramatically improved their pleasure;
86% stated that exploring new condoms greatly improved and spiced up their sex life … AND
96% stated that Mission: Great Sex! Global Condom Review greatly improved their opinion of and relationship to condoms.
The wealth of information gained through their international condom study led Lucky Bloke to create an e-Commerce experience optimized for making it as easy as possible for condom users to find their perfect condom pleasure match. At theCondomReview.com,it is now easier than ever to discover condoms that offer ultimate pleasure for them personally.
"Safer sex can be great sex," says Lucky Bloke CEO, Melissa White. "Before our Global Condom Review 85% of participants disliked condoms. After the review, that situation reversed to 96% of all reviewers finding a favorite condom. Lucky Bloke's proven that proper fit plus premium condoms leads to a heightened, more pleasurable condom experience. All condom users deserve that. And once people discover this, they're far more willing - and likely - to consistently wear condoms."
####
ABOUT LUCKY BLOKE
Lucky Bloke is pioneering a new way of thinking about and buying condoms: personalized, non-patronizing customer education coupled with very committed customer support. Lucky Bloke offers the very best premium condoms for one-time purchase, or via monthly condom subscription at LuckyBloke.com.
As part of its commitment to social giving, Lucky Bloke donates 10% of its sales to to urgent humanitarian causes. Subscribers can choose which cause their share of sales supports. Current options include: charity: water, It Gets Better Project, and UNICEF.
Lucky Bloke's reason behind the mission:
Mission: Great Sex! Global Condom review's true mission addresses two urgent and critical global health issues – improper condom use and the continuing rise of STDs / STIs.
STIs are one of the most critical health challenges facing the world today. The Center for Disease Control & Prevention (CDC) estimates that, in the United States alone, there are 19 million new infections every year;
2 out of 4 sexually active people have an STI – and most of those infected do not even know it;
STDs cost the U.S. health care system $17 billion every year – and cost individuals even more in immediate and lifelong health consequences; and,
As noted in a recent study in the Journal of Sexual Health, a huge portion of condom use worldwide is ineffective due to improper use. Using the wrong size condom is the most common cause of condom failure.
When condom users are educated about condom fit and condom quality they are able to find a condom they actually enjoy which leads to more consistent condom use.