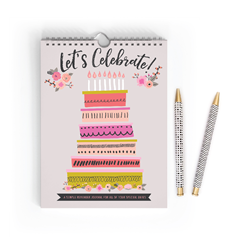 The Let's Celebrate Calendar has been on my mind to create for a very long time. Even in a digital day and age, I always love to physically write down all my important dates and have them documented them on a calendar. -Haily Meyers, Creative Director
scottsdale, AZ (PRWEB) June 08, 2016
Lucy Darling has been actively growing its product assortment since January 2014. The most recent addition to the brand's product mix is a perpetual calendar called, "Let's Celebrate!". Life gets busy, and it seems next to impossible to keep track of all the important dates in one's life. This simple and beautiful perpetual calendar, is designed to help one easily record and remember all the most important events one's life. The best part? It only needs to be filled out one time, as it doesn't correlate with any given year. Whether it's a birthday, anniversary or important milestone, this reminder journal will help keep one organized in the most beautiful way.
"The Let's Celebrate Calendar has been on my mind to create for a very long time. Even in a digital day and age, I always love to physically write down all my important dates and have them documented them on a calendar. What makes me even more excited about this calendar is that it's perpetual and it doesn't end with the given year, as my most important dates never change. I designed this product for people like me who simply love a beautiful way to stay organized" – Haily Meyers, Creative Director
Haily Meyers, like many people, love to write down dates and important events. Some people even go as far to say writing down notes, dates, events etc. is lost art that needs a revival. This calendar is for these people. Not only is it lovely to look at, it's functional and meets a very important need in ones busy life, organization.
"Let's Celebrate", launched on Lucy Darling's website http://www.lucydarling.com on April 14, 2016. This calendar rounds out the company's product assortment, which now includes monthly/milestone baby stickers, pregnancy belly stickers, nursery art prints, nursery closet dividers, baby memory books, board books and a perpetual calendar.
The perpetual calendar as 12 months and features a different seasonal design on each page. The calendar retails for $24.99. Lucy Darling will continue to innovate in the baby and paper space and plans to launch several more products throughout 2016.
About Lucy Darling
Lucy Darling offers baby milestone stickers, art prints for nurseries, nursery closet dividers and baby memory books. They design all of their own product and print locally in the USA. From monthly baby stickers to nursery art prints, pregnancy belly stickers to closet dividers, Lucy Darling is thrilled to offer unique and high-quality products at affordable prices. Visit http://www.lucydarling.com.