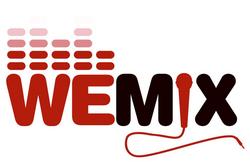 WeMix is a joint venture on a global scale, between MegaMobile, Disturbing Tha Peace and the worldwide music community
New York, NY and Atlanta, GA (PRWEB) March 20, 2008
Disturbing Tha Peace Entertainment, Inc., a recording label and entertainment company founded by Grammy award winning Hip Hop artist Christopher "Ludacris" Bridges, and MegaMobile TV, LLC, a multi-platform content studio creating formats for online, TV and mobile founded by television veteran Matthew Apfel, announced today that they have entered into a joint venture to form WeMix.com.
WeMix.com is an online community of unsigned singers, rappers, songwriters, musicians and producers. The site has all the tools to help users create music, collaborate digitally with fellow artists worldwide and, in cases, earn a chance to create new music by collaborating directly with top musical stars such as Ludacris.
Slated to launch late April 2008, WeMix.com to date has attracted over 20,000 actively participating artists, musicians and producers while currently in preview mode.
Users who join WeMix.com create their own page and have the ability to submit their original songs, riffs and melodies. The WeMix community then votes for favorite songs and artists, thereby organically discovering new music at a grass-roots level. Top performers on the site, if chosen, have the chance to collaborate with Ludacris and a host of other stars to transform their song into a hit record - with the entire process captured as part of a series for web and television. All artists who join the WeMix community become part of this first-of-a-kind user-generated record label. In addition, the WeMix.com site will sponsor music-oriented contests with prizes for top songs, rhymes, ringtones, lyrics and jingles.
Artists who join the WeMix.com community and upload their creations have the potential to sell their work directly to the consumer, and to collaborate digitally with fellow artists around the world. Top-rated performers become eligible to bypass the traditional A&R process and collaborate directly with Ludacris and other top music stars, thereby creating an entirely new way to launch a career.
In addition, WeMix's platform extends beyond the recording and publishing business into numerous additional revenue streams which include a reality series for online, TV, multiple online advertising opportunities, merchandise sales and SMS collaboration.
"There's so much talent that never sees the light of day because of the traditional way we discover artists; I felt it was time to take music back where it belongs - in the streets and with the people," said Ludacris. "It doesn't matter what type of music you're into, at WeMix.com it's an open playing field. We want to hear everything that's out there and let the people guide us in deciding which new artists get their shot to collaborate with stars and record a song. Even if you can't sing or play an instrument, WeMix.com gives you the chance to make music and influence decisions through voting and reviews. It truly is the people's record company."
"WeMix is a joint venture on a global scale, between MegaMobile, Disturbing Tha Peace and the worldwide music community," said Matthew Apfel, founder of Wemix and MegaMobile. "This is the first true online music community where the public can choose who and what they want to hear and - most importantly - play a meaningful role in how that music is created. Layered on top of that community are WeMix contests and publishing deals, where undiscovered artists get to collaborate with the biggest names in the industry - and get a real split of the publishing. Everyone wins: music is put back in the hands of the music community, the world gets great music and unknown musicians get discovered.
Ludacris is a world-renowned musician, collaborator, actor, entrepreneur and philathropist. The two-time Grammy award and SAG winner has sold over 20 million records and is the recipient of numerous other awards and nominations. Ludacris' 2006 hit Money Maker from his CD Release Therapy hit #1 on the Billboard pop chart. His other 2006 hit single Runaway Love gained wide critical acclaim and a #2 charting position on the Billboard 100 chart. Ludacris has produced and performed with over 45 artists including Alicia Keys, Usher, Ciara, Quincy Jones, Kanye West and Mariah Carey. His guest appearance on Fergies' 2007 single Glamorous, hit #1 on the [Billboard] pop chart. Ludacris has also appeared in numerous films and television shows including Crash, Hustle & Flow, 2 Fast 2 Furious, Saturday Night Live and Law & Order SVU. His films have generated over $100 million in box office proceeds. Finally, through his entertainment company, Disturbing Tha Peace, Ludacris boasts artist sales of over 20 million including Chingy, Bobby Valentino, Field Mob, Shareefa and a host of up and coming artists on his roster.
Matthew Apfel has 15 years of experience as a format creator, producer, development executive, and writer. In 2007 Apfel established MegaMobile TV, LLC, a multi-platform content studio creating formats for TV, web, mobile phone, and video game. As founder of MegaMobile, Apfel supervises the company's creative direction and content production. WeMix is MegaMobile's first of many planned formats. Prior to forming MegaMobile, Apfel was the Vice President of Development for True Entertainment, Endemol's New York production company. Apfel was also the creator and co-executive producer of Gastineau Girls, a hit docusoap that ran on E! about Lisa and Brittney Gastineau, mother-daughter 'celebutantes' living in New York City. Apfel also previously served as a head writer on Who Wants to be a Millionaire, where he supervised writing and content creation during the show's first two seasons on ABC Television. He also managed an ancillary team that produced home CDs for Millionaire, which sold approximately 1 million units.
About WeMix.com:
WeMix.com is a music-creation community and user-generated record label that enables unsigned singers, rappers, songwriters, musicians and producers to be heard and get discovered. Artists who join the WeMix.com community and upload their creations have the potential to sell their work directly to the consumer. Top-performers can also become eligible to have songs produced by Ludacris, thereby opening up an entirely new way to launch a career outside of the traditional music hierarchy.
###