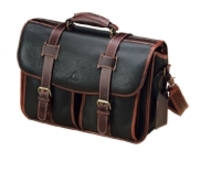 Our new collections feature old-world craftsmanship that is hard to find in luggage today, from any manufacturer
Sparta, WI (PRWEB) February 25, 2009
Justin Charles has introduced its new line of hand crafted luggage, backpacks, briefcases and totes made with the highest quality hand-selected premium leather, environmentally friendly American made waxed cotton, and ballistic nylon. The new items are now available online at http://www.JustinCharles.com.
"Our new collections feature old-world craftsmanship that is hard to find in luggage today, from any manufacturer," said Joe Campisi, Director of Product Development for Justin Charles.
"Combined with modern designs and convenience, we feel that this collection will satisfy even our most discerning customers. No detail has been overlooked," he added.
The Legacy luggage and personal bag line includes 12 different styles of luggage, backpacks, briefcases, laptop computer compatible bags and totes. Each piece is built durably to endure a lifetime of use and adventure while including 21st century essentials like laptop computer compartments, adaptable interiors and plenty of storage for modern day amenities. Justin Charles luggage is built to last, being passed down from one generation to the next, gaining a rich patina through decades of world travel.
Highlighting the new line is the Black & Tan all leather collection available in the 3 n' 1, Madison, Timbuktu, New Yorker and World Traveler, featuring bold exquisite water-proof, oil tanned full-grain premium leather with rich oil-tanned leather trim and straps for beauty and durability.
The Mustang collection features the same versatile designs as the Black & Tan, but are manufactured using highly durable and character-rich waxed cotton canvas that shrugs off a lifetime of scuffs and hard knocks along with full grain, sanded tumbled oil tanned leather that gets softer and richer with each passing year.
Justin Charles has become synonymous with the highest quality merino wool clothing for outdoor enthusiasts and recently expanded into men's outerwear with a collection of premium rugged casual clothing that features the quality and comfort that Justin Charles is known for. The new line of Legacy Luggage and Personal Bags adds to the Justin Charles product line-up and brings the style and craftsmanship that the company is known for to the luggage market.
To request a catalog, visit: http://www.justincharles.com/catalog.aspx
Product Guarantee
When you see the Justin Charles name, you're seeing a promise. It means that product is guaranteed to meet your satisfaction. If you're not 100% satisfied with your Justin Charles bag, you may return it to us for a full refund.
About Justin Charles
Justin Charles distributes and manufactures quality outdoor clothing and products to Scheels stores and various dealers across the United States and now makes its entire inventory available online at http://www.justincharles.com. Most companies make products for the masses, but along with mass production comes a loss of quality and craftsmanship. That's why Justin Charles makes products for few. They are passionate about design - not just how it looks, but how it performs, feels, and develops character over time. Not everyone can appreciate it, but those who do will cherish it for a lifetime. Every product they make is crafted with the highest standards of quality and workmanship. Excellence and quality isn't something they strive for; it's something they insist on.
For further information please contact: Diane Deml at 608.269.9665
###