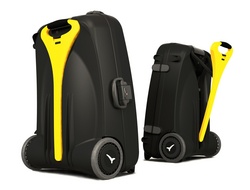 Ferndale, WA (PRWEB) June 23, 2008
HENLEY-ON-THAMES, England (Business Wire EON) June 23, 2008 -- Technology and travel meet with the first true development in luggage since the early 80's (when wheelies were invented). Live Luggage has designed and manufactured a true state-of-the art travel system that includes an intelligent torque control system which powers the wheels when the handle is tilted and pressure is applied on the handle, which triggers "force sensors" at the base and is designed to power up only when help is required. Additionally the tilt switch/sensors only power the wheels at certain angles - between slopes of 15% and 35%. If you accidentally drop the case or let go, it won't run away from you. In these instances, the case will go beyond its 'active' angles, so no power will be delivered to the motors.
Your PA suitcase is highly efficient when not powered. The handle system is a completely innovative concept as it balances most of the bulk of the case over the wheels, rather like a wheel barrow. This system is called the "Anti-gravity Handle" – it is solid and tough.
The handle can be adjusted to three height levels making it as comfortable for people of all heights. This adjustment is made by lifting a simple catch in the handle grip. For air travellers, there's an override lock (sideways movement) to ensure the handle remains in lock mode during the flight mechanically cutting the power from the battery. Of course the case can still be used without power.
PA Series cases are powered from a rechargeable 12V NiMH (Nickel Metal Hydride) battery pack located inside the base of the case. The electronic management control system is located within the same compartment.
Neil Armstrong, Live Luggage MD answers a few basic questions which came up during our research period.
Why would anyone want to use a power assisted suitcase?
Well let me ask you - have you ever been on vacation or a business trip with a 60lb suitcase? The problem is not on flat marble floors – the problem is getting to and from departure lounges, the long and steep gradients, steps, kerbs, taxi and train steps, to name but a few. A real problem for every one young and old...until now.
How much does it weigh?
Empty a PA Series case weighs 10.6kg, just 3kg more than the standard hard luggage of similar capacity/ volume. However, the important thing to remember is when it has a 30kg payload it actually ONLY feels like 3kg weight - even when going up a gradient - which means a 6 year old or an 86 year old can go almost anywhere with a fully loaded case.
How tough is it?
PA Series case handles are injection moulded in a PC ABS material and glass filled nylon, similar to modern day car bumpers, so they are tough and strong enough – even allowing for luggage handlers.
How does the battery charging system work?
It works on the same principal as your mobile phone. PA Series cases come with a Live Luggage charger and adaptor, and we recommend that you leave your PA series on charge over night ready for the next day.
Are there any security issues when checking in at the airport?
Legally there is no problem checking this product into the hold. Live Luggage has all the required accreditations and approvals from the global airport authority.
How far will it go?
On test, fully charged, it travelled 1.5 miles with 32kg, approximately 2.5 hours charge.
PA stands for Power Assisted – it's not self propelling or remote control and has no traditional method of control like a twist grip or control cable. Itis designed to work on sensors in the handle and in the powered wheels using torque, not speed.
Want to place an order?
Go to our website where we have video links and all the FAQ's: http://www.liveluggage.com
Please go to http://www.liveluggage.com to Media Centre and download the hi-res images.
LIVE LUGGAGE – because the world is not flat.
MULTIMEDIA GALLERY http://www.businesswire.com/cgi-bin/mmg.cgi?eid=5715800