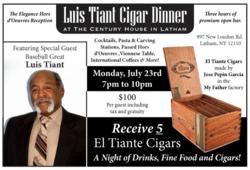 I think this is going to be one of our best events of the year. Sometimes we have events that people miss out on and regret it, and I'm sure this will be one like that.
Albany, NY (PRWEB) July 17, 2012
Habana Premium Cigar Shoppe is the Capital Region's premier tobacconist, carrying all of the best cigars in the industry, boasting two Albany-area locations and having been voted Best Cigar Store five years in a row by the Times Union. Habana Premium frequently puts on special events featuring cigar smoking and other entertainment, and they are preparing for one of their highest profile events of the year.
The Luis Tiant Cigar Dinner will be held on July 23, 2012 from 7-10pm at the Century House in Latham, NY. Tickets for the event cost $100, and are all inclusive. Each attendee will receive 5 premium cigars from Luis Tiant's personal cigar brand, El Tiante, manufactured by My Father Cigars. They will also receive access to a top-shelf open bar for the duration of the event and an exclusive Heaven Hill Distilleries American Whiskey Collection tasting featuring: Evan Williams Single Barrel Bourbon, Elijah Craig 12yo Small Batch Bourbon, Bernheim Straight Wheat Whiskey and Rittenhouse Straight Rye Whiskey. In addition, there is a gourmet menu featuring a tremendous variety of hor d'ourves, pasta station, carving station and more. There will also be a Viennese table with a lavish display of fresh fruit, chocolate, nut, and liquor flavored tortes and other desert items. A selection of international coffees including cappuccino, espresso, and Irish coffee will also be available for attendees.
The Greenbush Open Golf Tournament is a sold out event held earlier in the day at Burden Lake Country Club and benefits the Averill Park Education Foundation and honors the memory of Frank "Doc" DeVane. The Greenbush Open is sponsored by Habana Premium Cigar Shoppe, Burden Lake Country Club in Nassau and The Beverage Mart in Wynantskill, NY.
Baseball great Luis Tiant will be the guest of honor at both events. A Cuban native, Tiant was infamous throughout his professional baseball career for his cigar smoking habits. After he retired from Major League Baseball, it was natural for him to enter the cigar business. He started the Tiant Cigar Group with his son Daniel in 2005. The company's flagship product was Tiant's own El Tiante cigars. After a few ups and downs trying to break into the industry, the Tiant Cigar Group partnered with Jaime Garcia of My Father Cigars to re-blend and repackage the El Tiante brand. The new blend has been an instant hit with critics and regular smokers alike, gaining high praise from both. This event is part of a major marketing push that the Tiant Cigar Group has been on since the release of the newly blended cigars.
"I'm thrilled to have this event with a baseball legend," said Scott Bendett, owner of Habana Premium Cigar Shoppe. "I'm a huge baseball fan and it's an honor for me to have him present for this event. I also personally enjoy his cigar, and the new blend has become a favorite among our customers. When you add in all the top-shelf food and drinks, I think this is going to be one of our best events of the year. Sometimes we have events that people miss out on and regret it, and I'm sure this will be one like that. It's going to be an intimate gathering, the setting couldn't be better, and it's going to be a very special evening for everyone who attends."
Fans in attendance of either event should have no problem picking up an autograph or getting a chance to chat with the baseball great. Each guest also receives a copy of Smoke Magazine's current issue featuring Luis Tiant on the cover. For more information or to make a reservation, people who are interested can call 518-690-2222 or visit HabanaHappenings.com.
About Habana Premium Cigar Shoppe: Habana Premium and their online mail order website PipesandCigars.com offer their customers a wide range of tobacco products, everything from rare and exclusive premium cigars, pipes and pipe tobacco, RYO cigarette tobacco, a variety of smoking accessories, and other men's luxury goods. They have two retail locations, one in Colonie and the other in North Greenbush, and both feature state-of-the-art smoking lounges for customers to enjoy their purchases in. Habana Premium is a Davidoff Appointed Merchant which allows them to carry the full line of Davidoff cigars, one of the most prestigious brands on the market. Some of their other best selling cigars include Padron cigars, CAO cigars, Ashton cigars, Viaje cigars, Tatuaje cigars, and Opus X cigars.