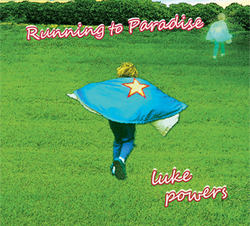 There's plenty to be depressed about
Nashville, TN (PRWEB) October 21, 2009
Luke Powers' new release Running to Paradise (Phoebe Claire Records, 2009) gives life, and the afterlife, a hard look.
Luke Powers doesn't want to depress anyone.
"There's plenty to be depressed about," the folk singer and college professor admits, "I think folks now could use a little uplift."
Powers insists he's an artist not a proselytizer. "Johnny Rotten and Jesus just came together, nice and absurdly," he says. "I may have Googled it."
Famed Italian post-neo-realist director Arturo Zapanini has created a music video for the song.
Running to Paradise begins with on an absurdist note,and the album seeks inspiration in a number of other, equally unlikely, places:

"Sea of Tranquillity" (the 40th Anniversary of the Apollo 11 moon landing)--which includes a Zapanini video featured on Nasawatch.com and other websites;
"Ziwatanexo" (Timothy Leary's failed LSD commune);
"The Real Elenor Rigby" [sic] (a deconstruction of the Beatles' classic); and,
"Quaternion" (the 19th discovery of four-dimensional algebra).
The title song, borrowed from a poem by W. B. Yeats, takes the great poet out of Ireland and puts him in the deep South where he runs into the devil wearing a yellow suit and black bolo tie.
Powers, who dissertation examined William Blake and Yeats, summarizes: "All the songs on the album are about the ways we 'run to paradise'--myself included."
"The Getaway" and "The Great Awakening" are autobiographical songs, snapshots of clarity in Powers' personal storms. The latter came to him as he sat atop a Nashville bridge in the middle of the night.
"I was drunk and divorced and wondering if it was worth the jump--when the wind blew off my shoe and this little bit of melody came to me. I'm not saying that this song saved my life, but it did keep me from falling."
Running with Paradise combines the sophisticated songwriting and stellar musicianship of his prior work: Texasee (2008), Picture Book (2007) and Kakistocracy (2006) with the Spicewood Seven.
The new CD features punk icon Richard Lloyd (Television, Matthew Sweet) as well as regular compadres singer Suzi Ragsdale (Guy Clark) and steel guitarist Tommy Spurlock (Rick Danko, David Olney).
Special Guests include keyboardist Michael Smotherman (Lucinda Wiliams, Steve Earle, Captain Beefheart) and fiddler/cellist Tim Lorsch (Goose Creek Symphony).
"There were a lot of strange musical intersections on this record," Powers smiles.
The album has been strongly received on Americana radio both in the US and abroad. WESU calls Powers "a great singer-songwriter," and "Johnny Rotten Come to Jesus" has been featured on "Hootenanny Power," "Taproot Radio" and "Dave's Record Collection" (WMUC).
With his latest release Powers continues to stake out a musical intersection himself--somewhere between sacred and profane, W. B. Yeats and Johnny Rotten.
"If I were more sure of what I was doing, I probably wouldn't be doing it," Powers admits, "but for now it almost makes sense."
###