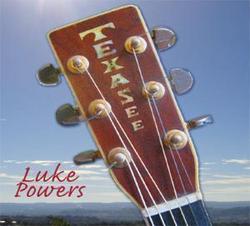 the soul of the album.
Nashville, TN and Austin, TX (PRWEB) October 1, 2008
Luke Powers is not your ordinary Nashville songwriter. A PhD in English from Vanderbilt University, he writes songs that owe as much to William Blake as Bob Dylan. Smart, surreal, offbeat, at times haunting--usually in 3 minutes or less.
His new CD, Texasee (2008) from Phoebe Claire Publishing, LLC, is his latest collaboration with Austin-based producer and musician Tommy Spurlock (Rick Danko, David Olney and The Band). Their previous work includes Picture Book (2007) and Kakistocracy (2006).
Luke's songs have been featured in the Acoustic Rainbow Sampler and Musicians for Minneapolis (I-35 Bridge Disaster Relief). Picture Book was named CD of the month by Radio Leith.
The all-star group includes Kenny Vaughan (AMA Instrumentalist of the Year) guitar, Jamie Oldaker (Eric Clapton) drums, and John Davis (Superdrag) vocal, bass and guitars. Suzi Ragsdale provided stunning vocals. Luke calls her "the soul of the album."
Steel guitarist Spurlock reproduces the idiosyncratic sound of his mentor Sneaky Pete Kleinow (Flying Burrito Brothers), using multiple steel parts to provide a natural sonice ambiance. Luke describes the sound, "It's an acoustic album with a little sling-blade thrown in."
"I'm tired of all these warbly, navel-gazing 'Americana' songs," Luke says, "I wanted to take a more Sam Peckinpah approach."
CD Highlights Include:

"Billy the Kid Rides Again" resurrects the fabled outlaw oddly at home in postmodern America
"Selmer Tennessee" is based on Mary Winkler's murder of her preacher-husband
"Aron Presley" reviews Elvis' sad slow decline from the point of view of his dead twin
"Paul is Dead" examines the urban legend that Macca was replaced by an alien-human hybrid
To offset the violence, madness and paranoia, "Texasee" and "Tops of the Trees" offer a glimpse of a blessed land, maybe Heaven -- or for our purposes, Texasee.
Music Videos are also available.
###