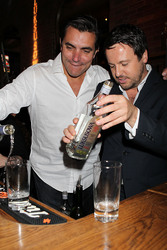 The potatoes deliver a much more intense, richer character than any grain as well as a more luscious mouth-feel
(Vocus) October 13, 2010
Celebrity Chef, Todd English and internationally acclaimed mixologist, Matt Pomeroy shook up some fun with Luksusowa Vodka at Guy Fieri's Triple Ten Closing Party for the Food Network New York City Wine & Food Festival on October 10th. Food Network celebrities and admirers alike celebrated the end to yet another exciting festival with Luksusowa cocktails specially-created for the event by Pomeroy and Guy Fieri.
Guests at the sold-out party enjoyed Pomeroy's Polish Mojito and The Breakfast Cocktail, and Guy Fieri's Ruby Glow (recipes below). Luksusowa, the Polish vodka whose name means 'luxury,' is a 100% gluten free potato vodka, which contributes to its outstanding mixibility for cocktails and unprecedented smoothness.
The exclusive use of specially cultivated potatoes with exceptionally high starch levels grown in the idealic Wielkopolska and Pomorze regions of Poland make Luksusowa a highly differentiated product from its grain counterparts. "The potatoes deliver a much more intense, richer character than any grain as well as a more luscious mouth-feel" explained Pomeroy. "Luksusowa Vodka, which has used the same recipe since 1928 and is the world's #1 potato vodka, is now being coveted by top US mixologists who appreciate that, unlike many other flavorless vodkas on the American market, has a distinct potato character, creamy palate and long length that enhances today's sophisticated vodka cocktails."
THE RUBY GLOW
By Chef Guy Fieri
1 ½ oz LUKSUSOWA vodka
½ oz VILLA MASSA™ limoncello
2 oz ruby grapefruit juice
3 dashes of lavender bitters
¾ oz simple syrup
½ oz premium pomegranate juice
In a mixing glass add LUKSUSOWA vodka, VILLA MASSA™ limoncello, ruby red grapefruit juice, simple syrup, lavender bitters, ice and shake. Juice to go to the bottom of the glass. Then add ice and pour pomegranate. Slowly pour the cocktail on top to create a double color effect. Garnish with a dry lavender sprig or ruby grapefruit twist.
BREAKFAST COCKTAIL
1 ½ oz LUKSUSOWA vodka
½ oz lemon juice
3 tsp orange marmalade
Shake first 3 ingredients and strain over ice into a rocks glass. Garnish with a orange zest.
POLISH MOJITO
1 ½ oz LUKSUSOWA vodka
1 oz freshly squeezed lime juice
1 oz pressed apple juice
½ oz sugar syrup
fresh mint
sparkling water
Build in a highball over crushed ice and top with sparkling of soda water. Garnish with a mint sprig.
Luksusowa boasts an 82 year history of premium quality production, and a standard of excellence resulting in consistently high ratings, including a 94 point Gold Medal from the 2009 BTI International Review of Spirits Competition and a Silver Medal at the 2010 Los Angeles International Spirits Competition. Luksusowa Vodka is sold nationwide at approximately $24.99 for the 1.75L, $16.99 for the 1L, and $12.99 for the 750ml.
###